Wealth Strategies
Protecting Porfolios Vs Forex Gyrations: No Easy Answers
The chart below shows the performance of the FTSE 100 index versus the MSCI World index since July. Sterling has appreciated more than 6 per cent since then, which means those companies that export into other countries have lost a lot of their revenues relative to sterling which explains the almost 5 per cent underperformance.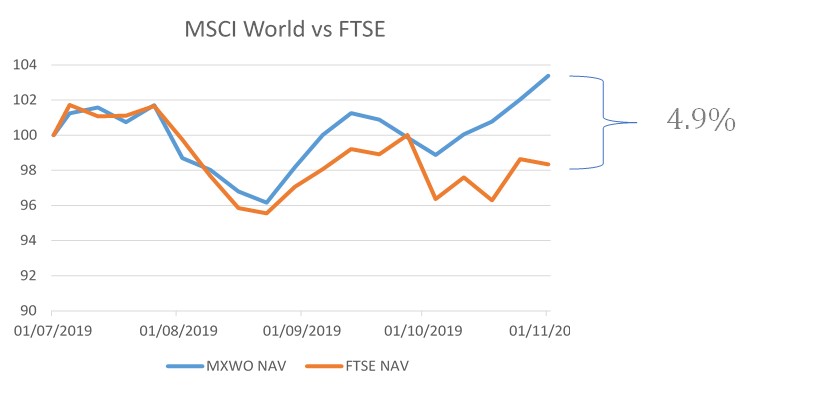 Source: Blu Family Office
Can we hedge this risk and not worry about currencies at all? You could invest only in your base currency. But the whole idea of diversification is to invest in other things and how many people in Argentina had wished they had put their money abroad? It can always go horribly wrong and the only thing we know for sure, is not to put all your money into any one thing. You have to take risk in different regions, opportunities and denominations to manage wealth effectively.
The other way to manage currency exposure is through the financial derivatives markets. There, we can buy forwards, calls, puts and even futures on any currency we like, allowing us to hedge whatever risk we wish to take off. There is a price, of course, which is not only a function of the spreads and execution costs, but also the interest rates in the countries with different currencies. Say you wanted to hedge US dollars into euros, then your costs are currently more than 2.5 per cent, as interest rates in the US are still relatively high compared with negative rates for the euro. Not something you want to be paying for the next 25 years, which is also why it is not economical to hedge all of your currency risk. And moreover, your currency could also depreciate, in which case the hedge would also cost in performance.
Complicated stuff, and there is no right or wrong answer, and your base currency will either go up or down. Whatever level of currency risk you choose to take on, remember this: the sheer size of the position warrants some serious consideration. The biggest risk of all is often the most obvious and therefore also the easiest to ignore.