Private Debt – An All-Weather Asset Class
Editorial Staff, 11 March 2020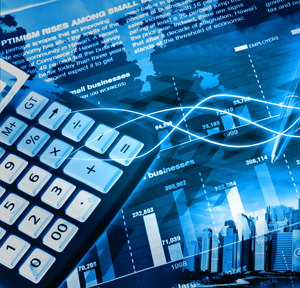 The author of this article examines a sector known as private debt, an area defined in some ways as that which operates away from conventional lenders such as banks. Private credit also taps into investor hunger for yields in today's environment of low/negative interest rates.
The following article is about the market for what is called "private debt", a term covering forms of credit that go outside loans provided by banks. Since the financial crash of 2008, rising capital requirements on banks and other changes led to a squeeze. But money, like water, has a habit of finding a natural level. And non-bank players, such as funds, have sought to fill the space. (Sometimes this area is called the "shadow banking" system, prompting concerns over whether regulators have a tight hold on what is going on in the sector.)
To discuss trends in the space is Kirsten Bode, co-head of private debt, for the Pan-European market, at Muzinich & Co, the London/New York-based firm focusing on public and private debt. The editors of this news service are pleased to share views of outside contributors. Remember, the usual editorial disclaimers apply. To respond, email tom.burroughes@wealthbriefing.com and jackie.bennion@clearviewpublishing.com

Where might investors find yield, protection from volatility and investment opportunities across the credit cycle?
The European private debt market is a relatively new asset class, having evolved as private lenders stepped into the gap left by banks after the great financial crisis.
Today, while banks are still lending, they are becoming increasingly limited by ongoing regulation and capital constraints. (1)
Meanwhile private debt, or direct lending, is being assisted by a relaxation of lending laws, such as in Germany and Italy, which is enabling non-bank lenders to provide financing solutions. As a result, direct lenders are now firmly established participants in the market. (2)

Risk/return profile
Falling interest rates in 2019, combined with increasing amounts of negative-yielding debt, reinforced investors' hunt for yield. (3) While some may be willing to move down the risk spectrum to find yield, we believe that private debt can offer an alternative likely to weather an ageing credit cycle, particularly when managed as a responsible investment strategy.
In our view, private debt can provide investors the potential for higher yields, via an illiquidity premium, than is available in public markets.
The asset class also has a low correlation to public market fixed income and therefore tends to offer a less volatile return profile (the investments are fixed over several years and not publicly traded on open exchanges) as well as protection from duration risk (due to the floating rate nature of the loans).
ESG enhancements
In addition, we believe systematic review of environmental, social and governance (ESG) factors can enhance the due diligence and ongoing monitoring of private debt details.
Factors such as employee engagement or compliance with relevant environmental regulations, may ultimately impact the financial resilience of a company. We believe taking a more holistic view on so-called non-financial issues also helps investment managers to protect their reputation and those of their clients.
Opportunities in an underserved segment
There are over 100,000 companies in the middle market (€25-250 million EBITDA) Europe-wide, which offers a sizeable and diverse opportunity set for investors. (4)
A large proportion of direct lenders tend to be focused on the middle and upper segments of this market (companies with €25->€75 million EBTIDA) (Fig. 1).
However, with greater competition comes the potential for increased pressures on pricing, deal sourcing and capital deployment.

Fig. 1 – The lower middle market is underserved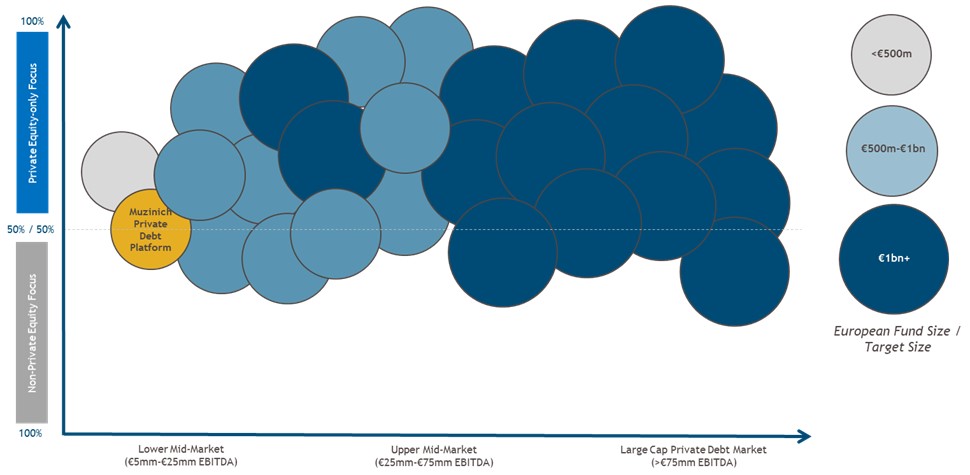 Note: Muzinich's opinion of a representative competitive landscape. Analysis based on Muzinich review of publicly available information and institutional insight. Investment strategies of the above referenced firms may change. For illustrative purposes only. As of 19 September, 2019. Investment strategies of firms included in the above analysis may change.
In our view, the European lower middle market (companies with €5-25 million EBITDA) is underserved from a lending perspective.
Small and medium-sized enterprises (SMEs), which broadly comprise this segment, are the growth engine of Europe. (5)
We believe that these companies offer an array of lending opportunities, specifically within family and founder-owned businesses looking for funding solutions.
Significant growth in the European private debt market over the last 10 years has created some concerns that lenders have built large supplies of so-called "dry powder" (capital raised but not deployed). (6)
However, as Fig. 2 shows, lenders are not experiencing challenges in finding investment opportunities.
Fig. 2 – Capital continues to be deployed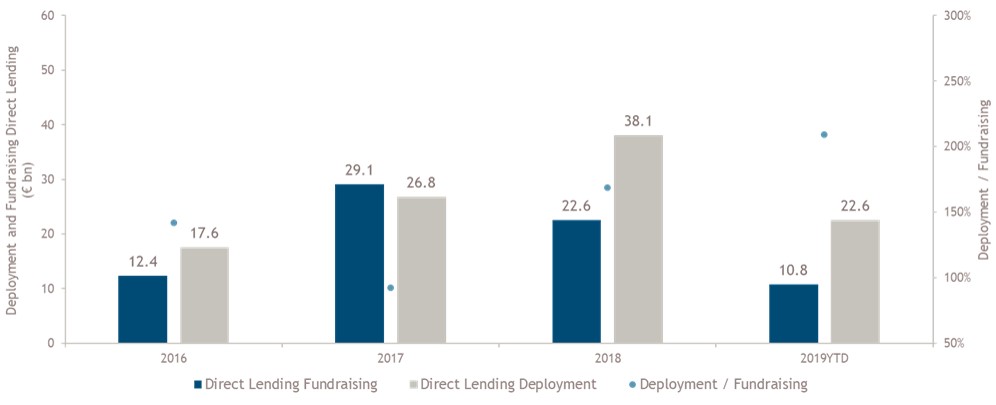 Source: Annual Europe-Focused Direct Lending Fundraising and Deployment. Deloitte Alternative Lender Deal Tracker, Autumn 2019. Europe Direct Lending fundraising by quarter. H1 YTD 2019.

(Muzinich views and opinions for illustrative purposes only, not to be construed as investment advice. https://www2.deloitte.com/content/dam/Deloitte/lu/Documents/private-equity/lu-deloitte-alternative-lender-tracker-autumn-2019.pdf)