Family Office
Is There Life For Startups After Rate Rises, SVB's Collapse?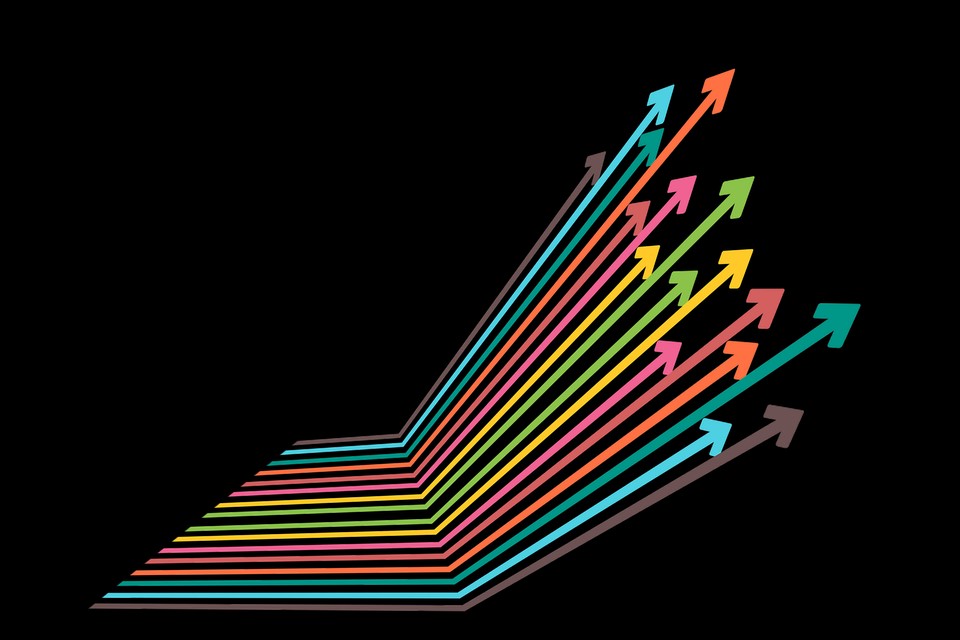 Family offices' importance as sources of VC funding has grown, and the recent problems in banking around the world only serves to show how significant they are. This article from Highworth Research examines the details with examples from its database.
The following article examines what has happened to funding of venture capital investments after the demise of Silicon Valley Bank in March. SVB, as its name implies, was closely linked to the startup world, and many of its clients had made their fortunes in tech and related fields. Would the end of this bank mean the taps of funding get turned off? Where else will funding come from?
To examine how severe the crunch might be, and explore the role of family offices as purveyors of "patient capital," is Alastair Graham, CEO and founder of Highworth Research. Highworth is a comprehensive database of single-family offices around the world. This news service is exclusive media partner to the business. (To register for the database, click here.)
Times are tough these days for early stage companies looking for funding. Crunchbase reported that venture capital funding had plunged from $162 billion in the first quarter of 2022 to $76 billion in the first three months of this year. The clouds were already gathering in 2022 – GP Bullhound, a tech investment firm, found that debt issuance to European tech companies doubled to €30.5 billion ($33.7 billion) in 2022 compared with 2021. This was endorsed by Dealroom's finding that debt accounted for around 30 per cent of all venture capital raised for European tech companies in 2022 compared with an average of 16 per cent in the previous six years as equity investors reduced their commitments. Astonishingly, SVB was responsible for 60 per cent of all venture debt raised in California in 2023 up to the date of its failure.
In step with interest rate rises, and more restricted funding from venture capitalists, valuations for young tech companies have headed south. So they have to conserve cash, grow more slowly, cut back development, or raise money at lower valuations. In a worst case, bankruptcy may beckon.
Fundraising for startups is not all gloom
But the gloom can be overdone. One aspect of the problem facing startups and early stage growth companies is that many are conditioned primarily to knock on the doors of venture capital companies and not look at the wider market for raising risk capital. Within that wider market an important source is single family offices.
However the problem is that family offices are much harder to identify than VC fund managers. As a group they are opaque, only dimly visible, cannot be found in easily accessible professional associations, and do not conform to a standard type.
Family offices as a robust source of VC funding
Yet the journey to family office funding is worth making for many young companies with promising growth prospects. There are good reasons for this, including:
- There is wide availability of VC funding from single family offices;
- Family offices are not themselves dependent on external funding, their capital is invariably evergreen;
- Single family offices as a sector have continued to grow rapidly in numbers over the past 15 years;
- Family office VC funding generally represents patient capital, a willingness to invest for the longer term;
- Many single family office principals like to invest in business sectors which they themselves know well and often where they have made their own fortunes. So the quality of management support for the startup may be strong in terms of recommending business model adjustments, market entry processes, useful contacts, errors to avoid, and the like; and
- Venture capital investment is among the most popular asset classes to which family offices allocate their capital.
However the problem remains that data on single family offices, and an efficient, professional way to access the market, are hard to identify.
How to source VC funding from family offices efficiently
One potential solution is to use the Highworth Single Family Office Database, an online database with global scope which has been painstakingly developed over the past 15 years by Highworth Research of London.
The Highworth Single Family Offices Database currently provides detailed profiles including contacts at over 2,160 single family offices globally. It can be interrogated using a range of search filters which are able to identify those family offices which conform to an enquirer's specific criteria.
There follow some tables derived from the database which illustrate why single family offices should be seriously considered as a source of funding for early stage growth companies.
The majority of family offices globally are VC investors
The Highworth Database shows that 59 per cent of single family offices globally, or 1,282 out of 2,163, invest in venture capital. VC is the fourth most popular asset class to which capital is allocated, after equities (79 per cent of family offices), real estate (68 per cent), and private equity (60 per cent).
Within VC, 36 per cent of all single family offices on the Highworth Database invest in technology, with consumer products and services being the next most popular sector at 28 per cent, and then business services at 17 per cent.
However the opportunities for fundraising from single family offices vary markedly according to the region or country.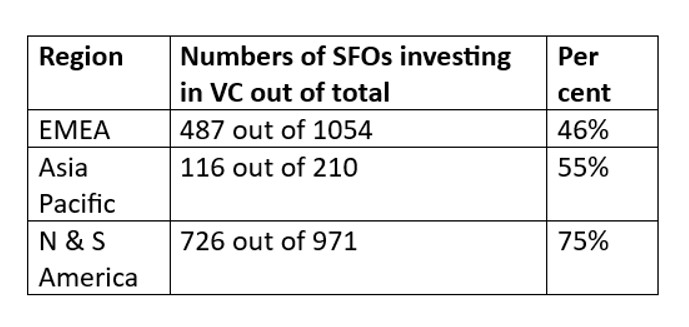 Europe is clearly the least favourable region in which to raise VC funding from family offices, with a young growth company having a much better chance of securing funding in North America.
Which countries offer the most favourable VC fundraising from family offices?
Family offices at the forefront of venture capital funding
Many family offices stand out as savvy investors, buoyed by a history of personal entrepreneurial success in specific business sectors, and with proprietorial and patient capital that's not dependent on the vagaries of external fundraising or the pressure to sell within a set time period.
Financing scientific discovery is a long game in investment terms and the risk of failure is great. Single family offices may be well suited to this type of patient capital, but only a tiny fraction will achieve off-the-chart success. Here are a few of the many: