People Moves
Who's Moving Where In Wealth Management – JM Finn, Old Mill, Ocorian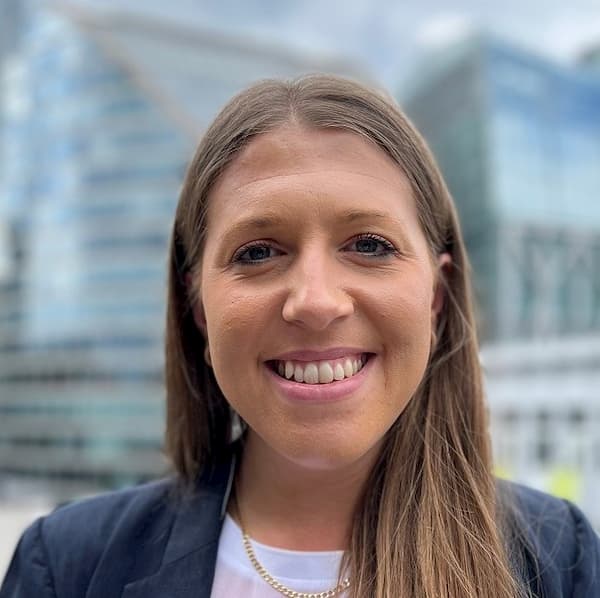 The latest moves and appointments in wealth management in the UK, the rest of Europe, the Middle East and other select locations.
JM Finn
JM Finn has appointed Rebecca Dawkins as an associate wealth planner. Her remit will be to support clients manage their wealth by providing guidance on retirement planning, estate planning and wealth structuring.
Dawkins (pictured), who has worked in wealth management for the last five and a half years, recently completed her last exam to achieve chartered status with the Chartered Insurance Institute. Before joining JM Finn, Dawkins was at London Wall Partners and prior to that at Saunderson House.
Reporting to Anna Murdock, head of wealth planning, Dawkins is the ninth hire in the wealth planning team as the firm continues to help clients manage their wealth more effectively by offering customised solutions and mitigating risk.
Murdock said: "We're delighted that Rebecca has joined. I am confident that her knowledge and experience will perfectly complement the team as we look to continue helping our clients on their investment journeys."
With more than 100 investment professionals, JM Finn has funds under management and administration of £10.5 billion ($13.08 billion) on behalf of over 18,500 clients (as at 31 March 2023). The firm, whose headquarters are in London, has four regional offices around the country in Bristol, Bury St Edmunds, York and Winchester.
Old Mill
West Country-based Old Mill has promoted two of its compliance team staff to technical partners – chartered accountant Jamie Rudge and compliance director Duncan Parkes.
Rudge's background is in audit and accounts, with extensive experience in business, accounting and compliance. She joined Old Mill in 2016 as an associate director and is now the practice assurance principal for the accountancy side of the business, with responsibility for all areas of regulation, standards, compliance and risk.
Rudge is also Old Mill's ethics principal, ensuring quality and compliance throughout the firm. She has been a member of the Institute of Chartered Accountants in England and Wales (ICAEW) Investigation Committee since 2019 – one of the independent regulatory and disciplinary committees that oversee the ICAEW Professional Standards Department.
Speaking about her promotion, Rudge said: "I am excited to join the partner group at what is a very exciting time in both the accountancy profession, and Old Mill's growth. There's lots of upcoming change in the accountancy world, and I'm keen to help shape Old Mill's future and embrace these opportunities."
Parkes joined Old Mill in early 2008 as compliance manager and after some time as head of compliance, he moved into his current role. Parkes is responsible for all areas of regulation, standards, compliance and risk for the financial planning side of the business and is a member of Old Mill Financial Planning Ltd's board. He is a fellow of the Personal Finance Society – and former winner of the PFS Chartered Financial Planner of the Year Award.
Parkes said: "To become a partner in Old Mill at such an exciting time in the evolution of the financial planning profession is something I am very proud of. The opportunities that exist for Old Mill in the financial planning space are huge and to be able to help shape our future is very exciting."
Kevin Whitmarsh, CEO of Old Mill said: "Jamie and Duncan are both exceptional at what they do, not only keeping us in line with our respective regulatory bodies but also helping with technical training and helping shape the business strategically to the highest standards. Their hard work and commitment to quality are shown by the impact they have made on the work we do with our clients, our colleagues, and the communities in which we operate. They both demonstrate our firm's values by delivering an ongoing commitment to ensuring all the work we are excited to see more from them both in their new roles as partner."
Ocorian
Ocorian, the specialist provider of alternative fund services, entity administration, corporate and fiduciary services, has appointed Ross Thomson as business development director – fund services, based in Luxembourg.
Thomson has more than 20 years' experience in the financial services industry working internationally for major global financial services providers. His experience includes managing operation functions in Luxembourg, Ireland and Canada in both the AIFM and fund administration sectors. He has also held directorships in the Luxembourg and Irish UCITS' and AIF funds' space as well as conducting officer roles in Luxembourg.
Paul Spendiff, head of business development, fund services at Ocorian, said: "Ross's appointment further strengthens our support for fund managers as Ocorian Fund Services continues to invest in its offering in Luxembourg in response to growing demand across the market."