People Moves
BEST OF 2012 SO FAR: DBS Set For International Foray This Year, Says Wealth COO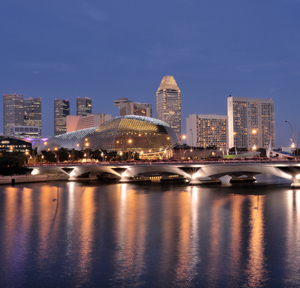 Asia still key
Will the international push mean Asia - which Crespin refers to as "our back yard" - is becoming less of a focus? "Not at all, most of our client base is and will remain here," he said. He added that the bank is still moving towards its goal to be the leading wealth manager in Asia, where GDP growth is higher than anywhere else in the world and 366 millionaires were created each day between 2006 and 2009, according to Merrill Lynch and Capgemini.
The bank launched an ambitious pan-Asia private banking push in 2010, spearheaded by the newly-instated wealth management head, Tan Su Shan. The focus is on regional wealth management, SME, treasury, markets and global transaction services, and will see around S$250 million invested over the next five years.
Tan was behind the launch of the new category DBS Treasures Private Client, which targets new millionaires with assets over S$1.5 million. This was part of her so-called wealth continuum (a way of involving clients right from the start of their wealth to the end, through retail banking to private banking) and Crespin said it has improved the productivity of relationship managers "immensely".
The bank's China franchise has shown particularly strong growth in recent months. Full-year net profit for the region crossed the RMB500 million ($79 million) mark for the first time on a 65 per cent jump in revenues year-on-year.
Last month three senior executives were brought on board for the Greater China private banking division. These included Yvonne Hsin, as head of the private banking business in North Asia, from China Construction Bank; Robert Kung, as head of private bank for DBS China, from Credit Suisse Clariden Leu Asset Management, and John Lim as a team head of the private bank for DBS Bank Hong Kong, from South China Group.
DBS opened eight new branches in China last year, bringing its total network in the country to 25 outlets. Expansion efforts led the bank to acquire around 16,000 new clients and increase staff numbers by 42 per cent; it is eyeing headcount growth of a further 25 per cent this year. China deposits were up 40 per cent from the previous year. It now has over 200 branches across 15 markets in Asia, and is still in growth mode.
So what is the overall plan? "We are in the top ten in Asia and we want to keep growing," said Crespin. "Our ambition is simple: to be closer to the top five."