Art
International Galleries Eye Asia's Art-Hungry Cognoscenti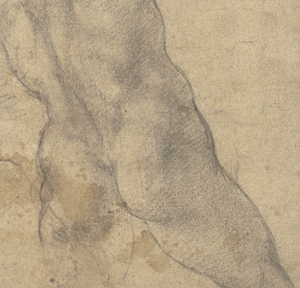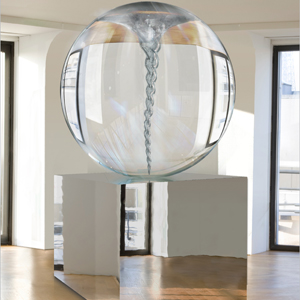 Petroc Sesti, Élan Vital, 2012 - optic fluid,
Science glass , Turbine, and stainless steel plinth, H 220 x W 90 x 90
cm plinth, sphere 100cm - courtesy of 10 Chancery Lane Gallery
Petroc Sesti went to great lengths to bring his
art to Hong Kong's annual art event, ART HK. The 38-year-old British artist is
exhibiting a vast glass sphere weighing around 1.2 tonnes, containing a perpetually
spiralling turbine in optic fluid. He flew the Elan Vital (which translates as vital force) to Hong Kong in the nose of a jumbo jet. "It wasn't the
easiest of journeys, nor the cheapest," he said. He reckons the cost of the journey and
insurance was over £3,000 ($4,700). The price tag on the work is around £80,000.
"I hope it will be worth it," he said. "The work has been really well received so far. Asians draw parallels culturally with their fascination with water energy and natural form, it's a symbolism of wealth and prosperity. Technical data aside, the work is also fitting to China's cultural heritage in glass production, fascination with the significance of spherical and spiral form, and that of the 'crystal ball'."
His work is being shown by Katie and Georges de Tilly, the owners of Hong Kong-based gallery 10 Chancery Lane. He adds that the Asian fair is very buzzy, perhaps more so than London, which he says is a little bit flat at the moment. He has already attracted three interested bidders so far, and several commissions. "Over here people are a bit more cash rich, and more willing
to buy what appeals to them," he added.
It appears that Sesti is not alone in this hope. For the
fifth edition of the biggest art event in Asia, ART HK, the number of galleries - half of which are international - has hit an all-time record.
The fair, which runs from 17 to 20 May, 2012 at the Hong Kong Convention
and Exhibition Centre, is showcasing 266
galleries (from 700 applicants) from 38 countries – and spokespeople
expect it to top all previous attendance records. Work ranges from emerging, like Sesti, to the
contemporary, like Gerhard Richter, to the classics, like Giorgio Morandi,
Pablo Picasso and Fernand Léger, to post-war, with the likes of Francis Bacon and Joan Mitchell.
"We are
delighted once again to welcome such a high calibre of art from around the
world to ART HK 12," said Magnus Renfrew, fair
director, speaking at the opening this week. "It's extremely exciting to see the fair
progress with the support of Deutsche Bank and it's hugely promising that in
its fifth year it continues to attract new participating galleries. Asia is now clearly centre stage."
With galleries ranging from Jakarta, to Budapest, to Maharashtra, to Sao
Paolo, it seems nowhere is too far flung to come to in the hope of tapping
Asia's wealthy. And with the population of millionaires in Asia surpassing 3.3 million now, according to Merrill Lynch and Capgemini - more than those in Europe - it is no wonder.
"The increasing interest in international galleries has been very
gratifying, testament to the increase in exposure of the fair," said Renfrew at
the press conference.
"Hong Kong is the perfect location for an international art fair. The
city is uniquely placed, not just geographically, right in the centre of the
region; the shared history with the West means people feel very comfortable
coming here from Europe and the US," he added.
Hong Kong is the third largest art market in the world, behind New York
and London, in terms of auction sales. Importantly, there is no tax on the
import and sales of art.
Unsurprisingly galleries are flocking to Asia, hoping for as slice of the region's wealth. Art galleries usually take between 30 per cent an 60 per cent commission on the work of an artist. In the case of the Simon Lee gallery, which exhibits American painter Christoper Wool, whose works now attract $8 million at auction, this can be a sizeable chunk.
The London-based Simon Lee gallery recently launched in Pedder Building, right in Hong Kong's beating heart. Katherine Schaefer, Asia director, told WealthBriefingAsia that establishing a presence in Asia had been a huge success. "When people come up to you at the fair and recognise the gallery and see that it is here for the long run, its builds up trust. A general trend is that Asian buyers tend to buy more established names, or Asian artists, so having a presence helps build the brand tremendously." Ben Brown, White Cube and the Gagosian are other recent entries to Hong Kong.
But despite the growing interest from
international galleries in Hong Kong, HK Art will always keep a 50/50 split between Asian
and international galleries, said Renfrew. "The balance of Asian and Western galleries is
very important for the identity of the fair," he said. One major change this
year is the launch of Asia One, the dedicated showcase of solo Asian artists
represented by Asian galleries.
Next year ART HK will be taken over and renamed by organisers Art Basel
in Hong Kong, to take place in May 2013. Asia Art Fairs is the current
organiser. "Art Basel has the best address book in the art world and has
greater reach than we do," said Renfrew. He added: "This should help the fair
become even more of a global phenomenon than simply an Asian phenomenon."