Family Office
WealthBriefing Launches New Online Family Office Database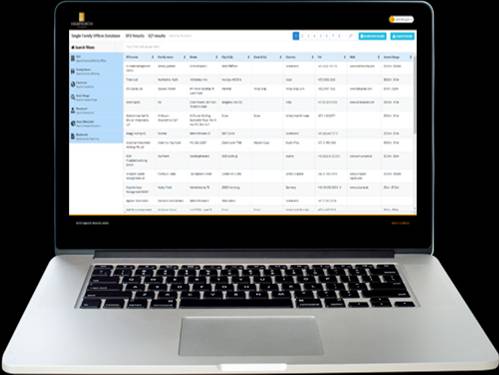 This publication is embarking on a major new partnership with Highworth Research to deliver data on the fast-growing single family office sector.
Single family offices are multiplying – there are now as many as 5,000 - and they hold trillions of assets under management. (According to EY, the figure could reach almost $70 trillion by 2021.) They are also discreet. Finding data about them is challenging, particularly outside the US.
But help is at hand. WealthBriefing is to shine a brighter light on the sector with The Single Family Offices Database, issued in conjunction with Highworth Research. The resource provides those who wish to engage professionally with SFOs – such as asset managers, wealth managers and associated professions – with detailed profiles of 1,100 single family offices, 800 of them in Europe, the Middle East and Africa.
The database tracks family offices of an individual or single family with AuM ranging from $25 million to over $25 billion; it also covers sovereign family offices for a member of a ruling family of certain countries. Family-owned investment companies and a small number of "double-single" family offices where two families have partnered to form a joint family office which is closed to other families are also covered.
The SFO profiles are presented in a standard data structure, and include the identity of the SFO and the family behind it, the value range of assets under management, an analytical description of how the family gained its wealth, the investment strategies, indicative asset allocations, sample holdings, contact details for the SFO's staff, including biographies for many, and details of the family's private philanthropic foundation.
Profiles vary in detail depending on the degree of reclusiveness of the family office, but many professionals who currently struggle to access the SFO community in an efficient and well-informed way will find Highworth's Single Family Offices Database an invaluable aid.
Highworth estimates that there may be about 5,000 SFOs globally but nobody knows the true quantity. However, Highworth has found that the numbers divide roughly equally between the US and the rest of the world.
Outside the US, Highworth's database shows that the UK has the highest number of SFOs, followed by Switzerland, Germany, France, Spain and Canada in that order.
Strong acceleration in wealth formation in Asia Pacific has not yet translated into large numbers of single family offices, except in Australia which has about the same number as Canada. Among small population countries, Norway and Chile stand out for their disproportionately high number of SFOs.
The SFOs on Highworth's database are classified into 10 ranges of assets under management. Almost 70 per cent of the SFOs fall into the ranges from $100 million to $5 billion, with 22 per cent falling into the $100 million to $500 million range, 18 per cent into the $500 million to $1 billion, 19 per cent into the $1 billion to $2.5 billion and 10 per cent into the $2.5 billion to $5 billion range. Curiously, the smallest range, $10 million to $50 million, holds the same proportion of SFOs - 5 per cent - as the largest range of over £15 billion.
The data also sheds light on family offices' appetite for assets such as private equity and hedge funds, for example. Some 82 per cent of single family offices invest in private equity either directly or through funds or both; the next most popular asset class is commercial property, favoured by 63 per cent; residential property by 51 per cent; real estate funds by 45 per cent; venture capital by 37 per cent; and hedge funds by 25 per cent.
By comparison, for example, European equities attract 41 per cent, corporate bonds 15 per cent, and impact investments 11 per cent.
Collaboration
The partnership with Highworth is something of a return to a collaboration that WealthBriefing first entered into with the organisation back in 2009. From 2011 to 2018 Highworth (originally founded in 2007) agreed to provide data to S&P Global on family offices and private banks outside the US. And now Highworth has gone fully independent and is partnering with this news organisation again.
The alliance puts WealthBriefing alongside a business founded by Alastair Graham, who has extensive publishing and media experience. His career included three years with the Financial Times. Graham co-founded the business and legal publisher Graham & Trotman, which was acquired by Wolters Kluwer NV, the Dutch media multinational, where he worked for nine years. Graham co-founded Graham & Whiteside, a publisher of data on more than 100,000 listed and private companies globally, which was acquired by The Thomson Corporation, later Thomson Reuters, where he worked for two years.
With all that experience under his belt, Graham sees a gap in the market that Highworth fills.
"What makes us stand out from the crowd is that our databases are based upon quality-assured research curated over 12 years," he told this publication.
"Importantly, we have concentrated on SFOs that are genuinely representing the wealthiest investors across the globe rather than padding out the database with organisations that are not genuinely representing a single family of substantial wealth, or where the source of wealth is unclear. Contact information on its own is of use, but we actually publish much more in our SFO profiles, including a summary of their investment strategies and indicative asset allocations which, along with an account of the family's source of wealth, are key to understanding an SFO's decision-making process," he continued. "Additionally, the database is the first systematically to chart SFOs connected charitable foundations, many of which themselves hold large sums in capital which has to be invested as well donated".
"Covering SFOs and sovereign family offices with assets under management ranging from $25 million to over $25 billion, these databases will be updated on a daily basis and the database users will be notified of changes in real time – so being first to the information - which I believe is a key differentiator. Coupled with the user-friendly online format these databases will contribute to the industry's understanding of the activities of these necessarily opaque organisations, so enabling a more sophisticated sales approach," Graham said.
Graham added: "The importance of KYC in client selection is a crucial determinant, so we hope that these databases will represent a time-saving addition to the available tools of business development, onboarding and marketing departments."
The data is available in two versions:
• Global Single Family Offices ex-USA
• Single Family Offices in EMEA.