UBS Seeds Singapore University's AML Research Programme
Tom Burroughes, Group Editor , 26 August 2019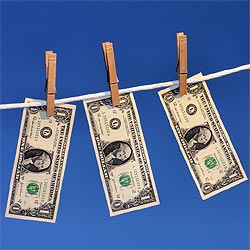 The banking group is supporting a programme that explores how to use AI and machine learning to battle against illicit money.
UBS is working with Nanyang Technological University of Singapore over how artificial intelligence and machine learning can be used to fight money laundering, a topic that continues to be front-page news in Asia and around the world.

The Swiss bank has provided seed money to support the research project, it said last Friday.

The project is supported by the Monetary Authority of Singapore's Artificial Intelligence and Data Analytics Grant under the Financial Sector Development Fund. It attempts to develop ways to map the links between money laundering and the variable factors around potential perpetrators and their transactions.
Anti-money laundering remains a top concern for private banks, as the recent international scandal centred in Malaysia around the country's 1MDB fund demonstrates.

The NTU team is made up of experts from its Wealth Management Institute (WMI), School of Computer Science and Engineering (SCSE) and Data Science and Artificial Intelligence Research Centre.

The stakes are high at a time when the region's wealth management industry is projected to have a record $42 trillion worth of high net worth individuals by 2025 (Capgemini's 2018 Asia-Pacific Wealth Report).

In conjunction with the scientific research, WMI will organise forums and dialogues from the third quarter of 2019 to share the research findings in stages.

A panel and working committee, comprising industry leaders and experts from financial institutions and regulators will provide strategic guidance to the project. They include:

-- Mabel Ha, managing director and regional head of Financial Crime Prevention APAC, Compliance & Operational Risk Control of UBS AG (expert panel chair);
-- Andrew Barker, director, APAC Lead, Systems & Innovation, Financial Crime Prevention of UBS AG;
-- Eric Ang, head of compliance Analytics & Insights, Group Compliance of UOB Limited;
-- Harsh Narula, group head, Platform, Analytics & Surveillance Operations, Legal & Compliance of DBS Bank;
-- Ian Wong, deputy director, Financial Investigation Group of the Commercial Affairs Department;
-- Lam Chee Kin, managing director and head, group legal, Compliance & Secretariat of DBS Bank;
-- Dr Li Xuchun, deputy director & head, Supervisory Technology Office, Data Analytics Group of MAS; and
-- Loretta Yuen, general counsel, Group Legal & Regulatory Compliance of OCBC Bank.