Mirabaud's Abu Dhabi Operation Officially Opens
Tom Burroughes, Group Editor, London, 26 November 2019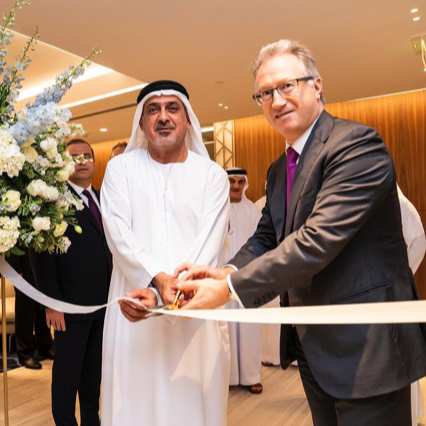 As reported already, the firm has a licence to widen out its wealth operations in the jurisdiction in which it has been present since 2007.
Mirabaud, which as previously reported has won a licence to expand its wealth management businesses in Abu Dhabi, officially opened its offices in the jurisdiction yesterday.

Operating in partnership with SBK Holding, the Holding Company of His Highness Dr Sheikh Sultan Bin Khalifa Bin Zayed Al Nahyan, Advisor to the President of the UAE, Geneva-based Mirabaud opened the Abu Dhabi office operations. The opening was attended by His Highness Dr Sheikh Sultan Bin Khalifa Bin Zayed Al Nahyan as well as senior officials from the Abu Dhabi Global Market's Financial Services Regulatory Authority.

The subsidiary, called Mirabaud (Abu Dhabi) Ltd, will offer domestic and international wealth man­agement advisory, business development, succession planning support as well as other investment services to its clientele in Abu Dhabi and the wider UAE focusing on local families, their networks, and partners, Mirabaud said in a statement.

The event was held a few days after Mirabaud appointed Alain Baron, responsible for the Middle East and North Africa wealth management markets, to the status of limited partner. (Baron joined WealthBriefing in Dubai three weeks ago to celebrate Mirabaud's victory in winning a number of wealth management award categories in this news service's MENA region awards. This publication interviewed Baron and a number of other award winners, and videos of those discussions will be published in due course.)

The firm has been present in the United Arab Emirates since 2007, where nearly 40 employees work at Mirabaud (Middle East) Ltd in the Dubai International Financial Centre. Half a dozen employees will be based in Abu Dhabi, managed by Ronald Tamer, the chief executive of Mirabaud Abu Dhabi, supported by Alain Baron, Head of Middle East North Africa Wealth Management Market at Mirabaud, and Olivier Honsberger, CEO of Mirabaud Middle East Ltd.

The group has offices in Switzerland (Geneva, Basel and Zurich), Europe (London, Luxembourg, Paris, Madrid, Barcelona, Valencia, Sevilla and Milan) and the rest of the world (Montreal, Dubai, Abu Dhabi, Montevideo and São Paulo).