People Moves
Scandal-Hit Westpac Reshuffles Leadership, Names New CEO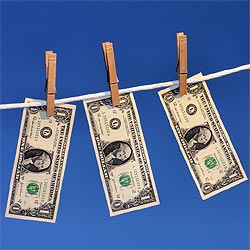 Another CEO running a bank hit by money laundering control failings falls on his sword.
Shares in Westpac inched lower on Wednesday after the Australian bank's chief executive resigned following regulatory claims of major anti-money laundering and anti-terrorism financing failures. Brian Hartzer's departure adds to those of other CEOs around the world brought down by lapses in handling potentially dirty money in recent years.
Replacing Hartzer on an acting basis is Peter King, who is chief financial officer, a statement from Westpac said. The appointment is effective from 2 December. The current chief operating officer, Gary Thursby will act as CFO.
Westpac shares were down by about 0.2 per cent at the close of Australian trading yesterday.
In addition to the executive changes, group chairman Lindsay Maxsted also announced that long-standing director, Ewen Crouch has decided he will not seek re-election at the upcoming Westpac AGM. Maxsted has also confirmed that he will bring forward his retirement as chairman to the first half of 2020.
A few days ago the Australian Transaction Reports and Analysis Centre, or AUSTRAC, said it was seeking civil penalties from Westpac because of what it calls "systemic non-compliance" with anti-money laundering and counter-terrorism financing laws. The organisation claims that the bank broke AML/CTL laws on more than 23 million occasions.
"The board accepts the gravity of the issues raised by AUSTRAC," Maxsted said yesterday. "As was appropriate, we sought feedback from all our stakeholders including shareholders and having done so it became clear that board and management changes were in the best interest of the bank."
"We are determined to urgently fix these issues and lift our standards to ensure our anti-money laundering and other financial crime prevention processes are industry leading. We are currently working through our response to the [AUSTRAC] statement of claim and will shortly commence the independent review. The board will continue to provide updates on these issues."
Hartzer said: "As CEO I accept that I am ultimately accountable for everything that happens at the bank. And it is clear that we have fallen well short of what the community expects of us, and we expect of ourselves."
Australia's banking and wealth management sector has been hit by a number of misdeeds and oversights. Late in 2017, the government created a Royal Commission to probe into a raft of problems around mis-selling, weak AML controls and lapses, and other problems. Senior figures at a number of banks have resigned and been replaced. (See an overview of these stories here.)
Worldwide problem
AML lapses and breaches of sanctions of countries such as Iran, Sudan and Cuba have prompted a wave of fines, C-suite resignations and licence cancellations in jurisdictions such as Singapore, Denmark, France and Australia. In Europe, to give one example, Copenhagen-based Danske Bank's executive leadership has been replaced over AML failings linked to its Estonia branch. Other European banks have been allegedly implicated.
In Asia, a massive corruption scandal centred on the state-created fund, 1MDB, has prompted criminal investgations in Singapore, Switzerland and the US. Singapore's regulator has kicked out Falcon Private Bank and BSI, both Swiss firms, from the Asian city-state. The US government has slapped heavy fines on banks such as BNP Paribas ($8.9 billion, May 2015) for sanctions breaches. In the small Mediterranean island of Malta, the jurisdiction has been rocked by claims – hotly denied by Prime Minister Joseph Muscat – that he and ministers used offshore Panama accounts to launder money. Several senior Malta government ministers have resigned. Maltese regulators removed a banking licence from the lender Pilatus exactly a year ago for AML failings.
The profusion of AML cases raises questions about what systems banks should use when onboarding clients and handling existing ones, such as how to make better use of technology to flag up problems early on. The way that bankers are remunerated, and the corporate ethos they should have to protect the reputation of a bank, are also hot topics for this industry.