China's Role In Pursuing Net Zero
Edris Boey, 16 October 2020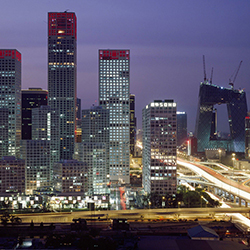 Where are we in this tumultuous year in using financial products and political pressure to bring down carbon emissions? China's emissions are double that of the EU and, until September, the green bonds market had stalled. Maitri's ESG lead in Singapore looks at what various efforts are yielding.
However, the above-mentioned financing is scarcely adequate for the net zero transition, given that approximately $2.8 trillion worth of investments is needed by 2027 just to achieve the European Union's carbon neutral goals by 2050 (excluding Poland). China's GHG emissions are double that of the whole EU, and in Q1 2020 alone, China approved approximately half of 2019's coal-fired power plant capacity – each plant typically has a life span of 20-30 years. This means that there is an even greater urgency for capital deployment towards neutralising this, exacerbated by the fact that power generation is a capital-intensive sector – estimates put the Chinese bill at $15 trillion.

Mainstreaming green financing
This urgency points to an immediate need for a systemic shift in mindsets – for green financing to become mainstream. We can expect to see more impairments and write-offs of stranded assets, typically associated with the oil and gas sector, in real estate, as well as physical assets across the agriculture, manufacturing and industrial sectors since they will become increasingly at risk due to more frequently occurring extreme weather events. The flooding of the Yangtze River in August was reportedly the worst flooding in a century, yet less than five years ago a flood of similar severity occurred when water levels exceeded that of 1998's catastrophic floods. The memories of the epic 2018 Californian fires lingered through the 2019 intense Australian bushfires, which have now returned with a vengeance as the Californian fires rage on in 2020.
An entire generation of assets and infrastructure damaged or affected by extreme weather worldwide will need to be rebuilt, sometimes along the same "faultlines". Instead of being referred to as green projects, these developments should have climate adaptation and mitigation features built in from their conception phase. This would mean responsible investors need not pay a premium for a limited number of qualified green projects, which have seen tightening margins. While the EU Taxonomy's "do no harm" criteria set a clear benchmark so that "sustainable project developers" know exactly which boxes to tick to become qualified, those that fall below the benchmark are likely to remain there and may even offer better returns given that they will need to be more attractive than sustainable ones.
With China only joining the net zero transition now, it has a narrower timeframe to arrive at the same point as the EU. It is unlikely that China will develop its own sustainable taxonomy because all projects going forward should be working towards the carbon neutral goal, and this is the propellent for the systemic change. Looking ahead, the environmental impacts of China's imports and exports will hopefully undergo an additional layer of scrutiny, and the value chain become more open to carbon neutrality – meaning that corporations must adopt and embrace change. The engagements made with such corporations through the CA100+ initiative will optimistically be met with less resistance than what we face today. From Maitri's view, serious ESG investors have plenty to look forward to.