Client Affairs
Tech Nation Backs Programme Support For Black Entrepreneurs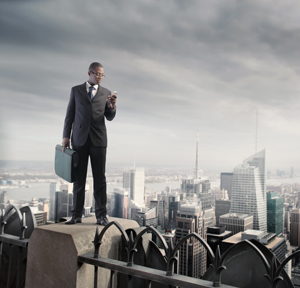 In an effort to "normalise" underrepresented groups in UK tech, a London accelerator has launched a programme to add support and funding access to black and multiracial founders.
Diversity and inclusion is arguably best served at the grassroots by funding and supporting black and minority entrepreneurs. To advance this aim, Tech Nation has launched Libra, a new initiative it suggests will equip ambitious black and multiracial entrepreneurs with the knowledge, tools and networks they need to scale their business.
The London-based technology accelerator has chosen 30 companies to help break through the barriers that many Black and multi-racial founders face. Chief among them is gaining access to VC investment which historically has been out of their reach.
Founders from across the UK will each receive roughly 60 hours of support and mentoring covering areas such as raising series A, selling to corporates, scaling operations, and expanding internationally. They will also be given networking opportunities with stakeholders and decision-makers at investment firms, corporates and governing bodies throughout the six-month programme, the group said.
The Diversity Beyond Gender report, co-published last year by Tech Nation in partnership with Extend VCand Impact X, two organisations helping diverse entrepreneurs scale up, underscored the yawning deficit in venture capital for non-white founders. Their research found that between 2009 and 2019 three-quarters of VC investment went to all-white founding teams, under a quarter (23 per cent) went to multi-racial founding teams, and just 0.24 per cent went to all-black founding teams.
Head of the Libra programme Abi Mohamed says the chosen scaleups "represent some of the most exciting, innovative, and resilient tech companies in the UK today that are tackling some of our biggest challenges." The cohort covers a variety of ventures, from digital healthcare tools and electric vehicle subscriptions to helping businesses move to circular business models, she said. One example is a firm building job-search and matching engines to filter out bias. Many are also focused on solutions for corporations and governments wanting to meet net-zero targets.
On a Credit Suisse call this week, the firm ran through encouraging progress being made to close the gender leadership gap. The bank's 2021 Gender 3000 report, analysing the gender breakdown of senior executives from over 3,000 companies in 46 countries, found that the average percentage of women in senior management has risen from 17.6 per cent in 2019 to 19.9 per cent in 2021. The number of female CEOs globally has increased by 27 per cent, although they still only account for 5.5 per cent of the total. The Swiss bank also found that the number of female entrepreneurs has improved over the past five years, with the ratio of female-to-male-founded start-ups rising from 0.62 to 0.73, although with caveats.
"We find that female-founded businesses are smaller than male-founded businesses with lower revenue and lower valuation. Among the top 100 unicorns globally, none is founded by a female-only team," the report said.
This chart shows the percentage of female directors represented across the different sectors.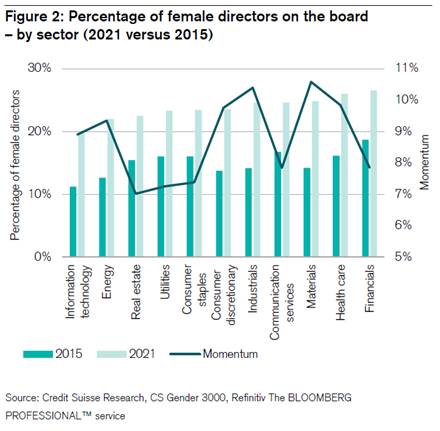 What is less talked about on such calls is the dearth of venture capital available to non-white business owners as part of private markets investment and sowing diversity success early on.
"Only one black female founder had raised over £1 million in venture funding in the 10 years to 2019," Libra judge and Extend Ventures' co-founder Tom Adeyoola, said.
Since publishing the research last November, the number has risen "to at least 7," he said.
Having vetted candidates coming into the programme, Adeyoola says there's no shortage of talented black and multi-racial founders in the UK. "They just need fair access to financial and social capital to succeed," he said.
"I am hopeful that Libra can help drive for black and multiracial founders the virtuous cycle of visibility, connections, and success," he added.