ESG
ESG Phenomenon: Invesco Strikes China Academic Partnership To Lower Carbon Path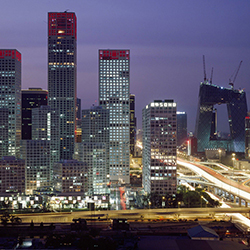 Invesco has partnered with academics at Tsinghua's School of Public Finance to study the parallel effects of ESG uptake and central government policies being enforced to bring down carbon emissions.
Invesco and Tsinghua University
Global asset manager Invesco has partnered with Tsinghua University PBC School of Finance to analyse China's carbon reduction targets for the country's major industries and listed companies.

Under the partnership, a quant team from the asset manager's China JV Invesco Great Wall will work with academics from the university in Beijing to research the Chinese market.
They will examine how businesses in carbon-intensive sectors such as coal mining, power and steel production are transforming under China's "double targets" carbon reduction plans, using quantitative and qualitative ESG analysis on companies to assess the economic benefits of these environmental policies.
"Double targets" refers to China's pledge to reach carbon neutrality by 2060 and peak carbon emissions by 2030. Chinese regulators have announced a set of interim policies, including a carbon emissions trading scheme, in a bid to reach these targets.
The announcement comes at the start of week two in Glasgow where negotiators and technocrats are attempting to reach an agreement on their carbon reduction plans. China's leader, Xi Jinping, was notably absent, but the world's largest emitter has sent its top negotiator and a large delegation to COP26.
"We have already seen a concrete plan toward the ambitious goal of carbon reduction in China's 14th Five-Year Plan, and we see this research as a meaningful contribution to understanding the impact and benefits of ESG investing in China," senior managing director and head of Asia-Pacific at Invesco, Andrew Lo, said.

Invesco says the scheme currently covers more than 2,200 power firms and that other heavy pollluters, such as steel and aluminum producers, who are slated for future carbon trading inclusion.
"The right policies to institutionalise China's ESG investment framework are rapidly taking shape. It is conceivable that the double targets for carbon reduction could accelerate the adoption of ESG investing principles. We believe this partnership and the ultimate findings will bring tremendous value to society, in China and across the globe," Dr Jiandong Ju, Tsinghua's professor of finance and head of the Research Center for Green Finance Development at PBC School of Finance, said.