New Office
Highvern Launches Irish Office, Makes Senior Hires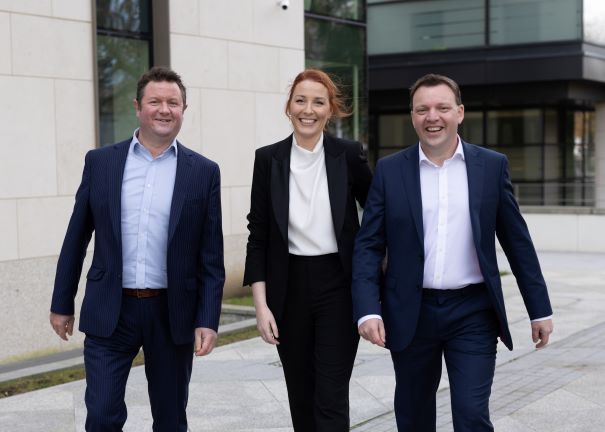 Ireland's market prospects and appetite for high quality and technology-based client service is behind the Jersey firm's move to open a Dublin office.
Jersey-based fiduciary and fund services provider Highvern has opened a new Dublin office and made senior hires as it takes advantage of Ireland's market prospects and appetite for quality, tech-based client service.
The firm's Dublin-based business will be headed up by Philip Dempsey as country head – Ireland, with Adrian Bailie and Emma Keane joining as directors (pictured from left to right: Philip Dempsey, Emma Keane and Adrian Bailie). It will offer corporate and fund administration services to unregulated and regulated structures across debt, capital markets, real estate, infrastructure, private equity, aviation, hedge funds and other alternative asset classes in the Irish marketplace. The launch will be subject to the usual regulatory approvals.

"Launching in Ireland is a very logical next step for us given the market prospects and proven appetite for the high quality and technology-based client service for which our award-winning funds services business in Jersey, led by Aidan O'Flanagan, is increasingly known," Martin Hall, managing director of Highvern, said.

Dempsey brings over 20 years' experience in the Irish funds market, having served in a number of senior operational and relationship roles, including EMEA head of transfer agency product for a global financial institution. He set up an Irish AIFM business more recently, and was appointed Ireland country head for a FTSE 250 listed fund and corporate services business.
He was also responsible for obtaining the first Real Assets Specialised Depositary licence in Ireland granted by the Central Bank of Ireland, and is an active member of Irish Funds, a member of the Green Team Network SteerCo and an industry contributor via speaking engagements and thought leadership.

Bailie is a chartered accountant with over 20 years' experience in the financial services industry working with corporate, institutional, fund and SPV clients. He will focus on promoting Highvern's expansion into the Irish SPV marketplace. He specialises in private debt and capital markets and has expertise in the administration and corporate governance of structured finance transactions, securitisations, private debt, real estate, aviation and other alternative asset structures.
Keane joined Highvern in October 2021 to establish its initial Irish footprint, and is a fellow of the Association of Chartered Certified Accountants with over 14 years' experience in the Irish funds industry across both regulated and unregulated fund structures, in particular focussing on debt financing, private equity/venture capital and real estate strategies. She has a keen interest in how ESG factors shape the investment industry and is also a SteerCo member of the Green Team Network.
Highvern, which also has an office in London, provides private wealth structuring, fund and corporate administration services.