Alt Investments
Why Wealth Managers Are The Ultimate Private Market Matchmakers: New Research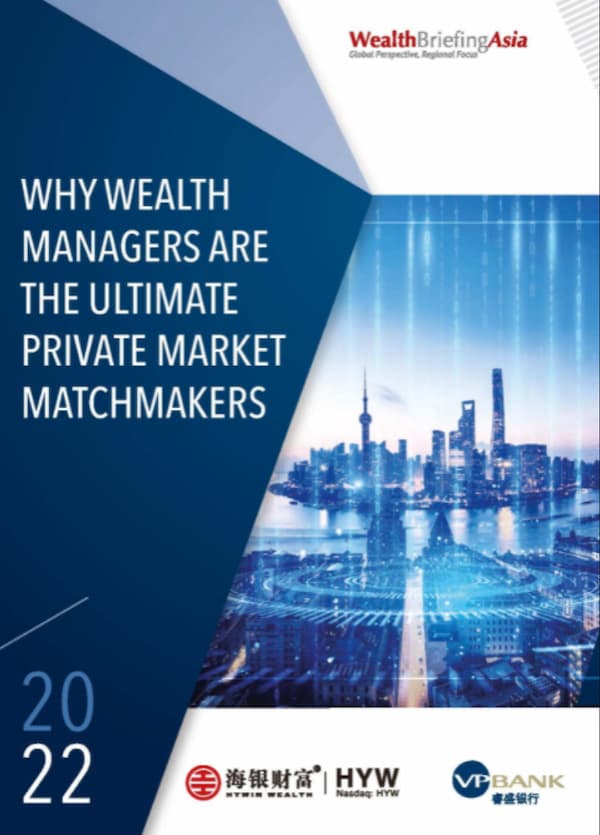 Why Wealth Managers are the Ultimate Private Market Matchmakers, a new report from this publication and research partners Hywin Wealth and VP Bank, is being launched today. Download your complimentary copy by following the link in the article.
More than three-quarters (77 per cent) of wealth management professionals in Asia-Pacific see strong client demand for private market investment opportunities, according to a new report from WealthBriefingAsia, Hywin Wealth and VP Bank.
Why Wealth Managers are the Ultimate Private Market Matchmakers tackles what is a hugely important topic for the industry, especially as it is reported that there is around $385 billion of "dry powder" waiting for deployment in private markets in the region. Find out how this trend is playing out and the current client's eye view of provision.
Some 69 wealth management advisors, investors and private markets professionals were surveyed and interviewed for this report, including a range of high and ultra-high net worth investors based in mainland China, Hong Kong and Singapore.

The potential for outsized returns is the strongest incentive to invest in private markets by far, with the majority (42 per cent) expecting a minimum 11 to 15 per cent internal rate of return (IRR), although far higher figures were cited by interviewees. (IRR is a way of calculating returns by accounting for the complex timings of deal entries and exits.)
Greater diversification was the second most important driver, but interesting investment opportunities, participating in real innovation and ESG aims were all frequently cited as the top-three factors prompting investment in private markets.
For wealth managers, a lack of available expertise and regulatory complexity are seen as the biggest challenges in the private market space. For investors, meanwhile, the biggest barrier to private markets is lack of visibility over opportunities (cited by 50 per cent of survey respondents), followed by a lack of confidence or knowledge (24 per cent). Firms will need to invest in talent, network building and thought-leadership for both advisors and clients to effectively plug into this esoteric area.
Expert and UHNW client contributors
Opening this wide-ranging report is an interview with Madame Wang Dian, chief executive of Hywin Wealth and Pamela Hsu Phua, CEO for Asia, VP Bank, which will be published tomorrow. They both give a high-level view of private market investing as a theme and, specifically, more in-depth examples of how they are opening up these assets to their client bases.
Also illuminating the findings of our survey are comments from expert contributors spanning the private market ecosystem: Satya Bansal, founder, Blue Ashva Capital; Carmen Cheung, managing director, Samsung Asset Management (Hong Kong) Limited; Cora Cheung, founder, C-Advisory; Lucie Hulme, CEO, TriLake Partners; Callum Laing, founder and CEO, MBH Corporation; Shan Hock Liew, managing director, BOCI; Franco Ng, CEO, Zeal Asset Management Limited; Ian Pollock, Hong Kong, managing partner, Stanley Bay Capital; Noor Quek, founder and CEO, NQ International; Cliff Sheng, partner, McKinsey & Company; Tim West, partner, EY UK Alternative Investments leader; Nick Wong, managing partner, Altive; and Chauwei Yak, founding partner, GAO Capital.
Why Wealth Managers are the Ultimate Private Market Matchmakers continues a research partnership between WealthBriefingAsia, Hywin Wealth and VP Bank, which began with the 2020 report Winning Women in Asia-Pacific: Insights for Wealth Managers Direct from Female Clients.
Download your complimentary copy of Why Wealth Managers are the Ultimate Private Market Matchmakers by completing your details here.