Company Profiles
EXCLUSIVE INTERVIEW: Banker Becomes Soldier In Ukraine's Frontline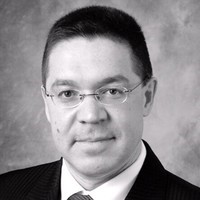 There are plenty of former soldiers, aircrew and naval personnel who have joined the ranks of wealth management. Not many have had to step away from their banks and fight in a war. We talk to a former UBS and Credit Suisse investment banker and venture capitalist, who is now engaged in the fighting in Ukraine against the Russian army.
A few weeks ago, Eric Kadyrov, a former investment banker at UBS and Credit Suisse who founded a venture capital business, was focused on sectors such as artificial intelligence. Then Vladimir Putin tore his world apart.
Kadyrov lives with his family in Kyiv, Ukraine. A dual Ukraine/US citizen, this one-time denizen of investment banks, Silicon Valley and renowned universities is on the front lines against the Russian military machine. He's put away his wealth management concerns for the time being. Instead, he carries an AK-47 assault gun.
"The Ukrainian government gave weapons and Kalashnikovs to all men who want to fight. I help to patrol the neighbourhood because we had some Russian soldiers in our neighbourhood. And everybody is heavily armed…no one can be outside after 7:00 pm. And basically, this is what I do – trying to get food for my family and help to patrol. And also I work to destroy [the] Russian economy, asking business leaders and CEOs globally to stop any business with Russia," he told this publication in a Zoom call from his home.
This isn't the first time Kadyrov, like some of his compatriots in civilian life, has had to pick up a weapon. But the circumstances could not be more different.
"I actually served in the Russian army when it was a Soviet Army. When we still had the USSR. So I served like 35 years ago. And I had basic military training but also I had the training, specialising in radar systems. I am a scientist and technologist, and my career was in technology and finance," he said.
Along with more than a dozen other family members, Kadyrov is in a house in the Kiev suburb of Borshagovka, 20 minutes from the city centre. When the Russian invasion started in February, Kadyrov decided he was going to stay and fight.
In a document outlining his life and events in Ukraine, as well as his VC business, one sentence stands out: "I take care of food, medical supplies for all, playing with kids, overall security and killing every Russian soldier that I detect in the neighbourhood."
Financial background
It is a far cry from the world Kadyrov has inhabited until a few weeks ago. He previously worked as a technology executive at Hewlett-Packard, Imaging and Printing Group, Office of Strategy and Technology, in California's Silicon Valley and he was also a tech-focused investment banker with Credit Suisse (Geneva) and UBS (Zurich). Studying for a PhD in physics at the University of Wisconsin, and taking an MBA at Cornell (2004), he also founded www.PrivateTechNetwork.com, an AI-driven venture capital-as-a-service (VCaaS) company, and co-founded Langua Metrics, a speech analytics company. His business has offices in Kyiv, with about 50 data science and AI engineers in that city.
The wealth management industry – as this publication has mentioned in the past – has a tradition of bringing former military personnel into its ranks. It is not uncommon to come across a private banker, recruiter or family office figure who has spent time in the army, air force or navy. It is therefore all the more striking when matters pivot 180 degrees the other way. (Kadyrov was introduced to WealthBriefing by a wealth management executive search figure who has previously served in the British Army.)
Scenes of war
Kadyrov's 67-page document describing Ukraine's situation contains photos of burnt tanks a few yards away; pictures of Ukrainians with Javelin missiles; pictures of people making "Molotov cocktails" – now known as "Bendera Smoothies." Some photos depict "before" and "after" scenes – elegant houses, gold-topped churches and town squares, juxtaposed with knocked-out tanks, dead Russian soldiers and smashed buildings.


Photos from Eric Kadyrov's Private Tech Network document, shown to this publication
There's more to fighting Russian forces than arms. Kadyrov remains very much aware of the financial angle; he described the efforts that he and other Ukrainian business figures have undertaken to put pressure on Western firms – such as his former employer, Hewlett Packard, to cease doing business with Russia.
It is a struggle, Kadyrov said, to mentally process what's happened.
"No one believed that Putin would attack at this scale, [on a] neighbour and peaceful country. Then we thought maybe he wants to flex his muscles...because he likes military exercise. Maybe he wants to do it in the Donbass region, but definitely not hitting the country the size of Ukraine, which is one of the biggest in Europe, you know, 42 million people – a huge territory," he said.
"It's the biggest war in Europe since the Second World War in 80 years. I still don't believe it, and it doesn't really fit my mind. So I just go day by day and, you know, I try to adjust," he continued.
"Morale is really high because everybody here wants to fight – not only men, but also many women. The feeling in Ukraine is this is our land. We protect [our] home and we protect families. And this is attack is not only on Ukraine, but also on freedom and democracy," he said.
One of the most striking features of Kadyrov's document about the war is how, almost bizarrely, this description is folded in a presentation about his business aims, it says, to revolutionise the venture capital process from sourcing of deals, raising of capital, through to exits. The section on investment has all the exuberance on technology and finance that Silicon Valley rainmakers, Wall Street bankers and family office principals will understand.
But for the moment, the financial world is not uppermost in Kadyrov's mind.
"This is a full-scale war. I think we all should be united to stop it, and also have all the people responsible accountable. It means not only Putin but his war generals, the people who voted for the war – rather long lists – and all the long list of media, the people in Russia who continue to lie to Russian people and providing propaganda. And in this war, [the] economic [side] is definitely a big part of it. So I think Western sanctions are good, but we should do more, as much as we can, to isolate Russia from the global economy completely," Kadyrov said.
"This is war not only for Ukraine, but also war against a bloody authoritarian maniac dictator for freedom and democracy in Europe and the whole world, for peace and security everywhere. We are also grateful to an unprecedented political and economic international coalition of countries, organisations and businesses in the US, EU, UK and globally for all [their] support of Ukraine in this war against evil. Despite the huge price Ukraine is paying with destroyed infrastructure, lives of its citizens and innocent children, we will win and freedom will prevail!"