Technology
An Overview From EY On Tech Traps Facing The Sector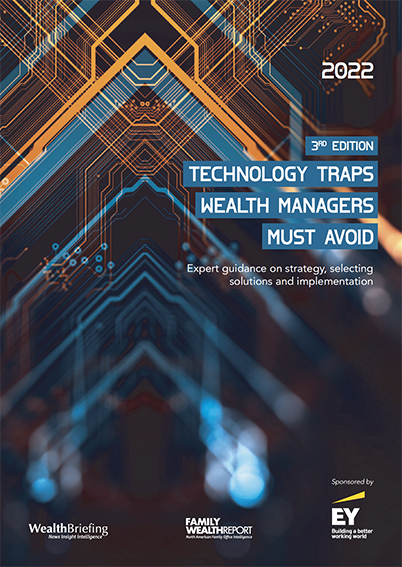 Plan for the future – it is cloud-based and API-enabled.
There is a huge opportunity for firms to integrate a full range of financial services including banking, insurance, wealth, and investments into single client relationships, unlocking gains in wallet share. The 2021 "EY Global Wealth Research Report" shows that 62% of UK clients prefer to, or already, use one single financial provider, taking advantage of regulatory regimes such as open banking to simplify how they engage with their financial providers.
Furthermore, adopting cloud-first and API-friendly design enhances the usefulness and reduces the costs of data collection, as well as enabling faster and cheaper partnerships with third-party providers. Strategic investments to establish the future technology architecture would lay the groundwork for future innovations.
3. Opportunities and priorities:
There are opportunities to evolve and future-proof business models to meet the needs of clients, now and in the future. Firms will be well positioned to keep and win greater market share with a future-focused strategy, built off a comprehensive understanding of their target client bases and experience they want to deliver, relevant investment into their technology and data infrastructure, and a clear approach to ecosystem partnerships. This will allow firms to create assets and build unique client propositions, addressing their needs on service, engagement, and purpose.
There are clearly priorities across the industry depending on which client segment is being served:
A) Private banks have an opportunity to elevate their service model and become comprehensive digitally-enabled financial advisors, providing holistic financial advice that truly engages their clients along their values and goals. Key differentials going forward would be being able to seamlessly transition between a digital and analogue service as needed, and personalised multi-generational engagement, provided at speeds only feasible through technology today.
B) Wealth managers should identify opportunities to increase access and service across their client base in cost-effective and compliant ways, including embedding their products and services into non-wealth customer journeys to help clients meet broader goals and ambitions. Establishing the correct technology infrastructure is essential, as it positions them to partner with third-party providers and leverage capabilities across their ecosystem.
C) WealthTechs should continue to build upon their solutions with a client-centric lens and leverage technology innovation as the means to democratising access to wealth and investing in the mass market and underserved communities. Often working in partnership with wealth managers and private banks, as well as other FinTechs, WealthTechs should make one or more of the three themes (service, engagement, and purpose) part of their proposition and their go-to-market differentiator.
Important information
This publication contains information in summary form and is therefore intended for general guidance only. It is not intended to be a substitute for detailed research or the exercise of professional judgment. Member firms of the global EY organisation cannot accept responsibility for loss to any person relying on this article.
About EY
In our wealth and asset management work today, not everything is innovation; a lot of it is evolution. And it's important to know the difference. FinTech disruptors continue to shift the rules, newer investors aren't flocking to older channels and cost pressure is relentless. From data and AI, to tech platforms and partners, the questions have never been bigger, and the stakes have never been higher.
At EY, we help clients re-think everything from pricing and operating models to coopetition and convergence. We bring critical questions into focus, which lead to bolder strategies, simplified operations and sustainable growth. Our sharp understanding of the state of play allows us to shift discussion from reacting to change, to helping shape it. Ultimately, we work with clients not just to stay competitive, but to change investing for the better.
For more information, visit ey.com/fs or email rahim.nota1@ey.com or schen@uk.ey.com.
Download your complimentary copy of "Technology Traps Wealth Managers Must Avoid 2022" now.