Company Profiles
A Deep Dive Into Wealth Planning, Client Needs At RBC Wealth Management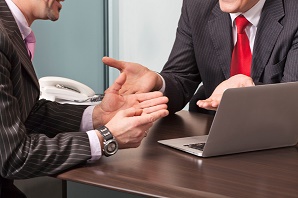 This news service interviews senior figures at the bank's new offices in the City about what clients need, its wealth planning challenges and strategy.
The challenges for wealth planning and engaging with clients at a time of so much uncertainty have seldom been greater. How to help clients frame expectations when inflation is doing a 1970s tribute band act? What happens when business owners want to sell up and make a transfer? And how can financial planning lead the client experience? This news service recently sat down with Nick Ritchie, director of wealth planning, and Annabel Bosman, head of relationship management, at RBC Wealth Management at its new offices in London.
To what extent does RBC WM need to help educate and inform their HNW clients? Specifically, what sort of guidance do your clients need and ask for? What advice requirements have surprised you and what were the reactions you expected?
New clients typically come to us with a specific need in mind: they may be selling a business, returning to the UK after a period overseas or looking to set aside funds for the next generation. We educate by sharing insights into what other clients in similar situations have done. Our clients come expecting constructive challenges designed to highlight opportunities and pitfalls which they may not be thinking of.
Whether a client is worth £10 million, £50 million or £500 million, understanding the level of capital required to satisfy one's own needs is the foundation to answering so many other questions – what multiple I need for my business exit, how much might I need to remit to the UK once I'm resident, how much can I set aside for my children, grandchildren or my foundation now without compromising my own lifestyle in the near future.
One of the biggest threats to preserving and growing wealth identified by our clients is the impact of taxes on income, gains and inheritance. We therefore expect to spend time educating them about the various allowances available to them or investment opportunities that may compliment their existing asset allocation while achieving greater tax efficiency.
One of the more surprising aspects has been the demand from parents for education aimed at younger generations and future inheritors of wealth. Clients acknowledge that effective estate planning can help alleviate concerns over gifting too much too soon, or gifting while maintaining control, but there is also a huge appetite for wealth managers to improve the effectiveness of these plans by educating the inheriting generation. We support this by hosting learning days with families covering investment management and financial planning using real world examples to demonstrate what good and bad practice looks like for transitioning wealth between generations.
We talked about the "problem-solving" nature of the advice that RBC gives to many of its clients. Can you illustrate what sort of problems arise?
We're constantly striving to reduce the time and effort clients have to spend on managing their wealth so that they can focus on growing and enjoying it.
One of the biggest challenges is having a consolidated view of their balance sheet, so we take the time to understand their full wealth profile to help them maintain an up-to-date view of their financial position in one place. Taking this one step further is about identifying the purpose of wealth.
Without this approach, clients often come to us with a disparate arrangement of assets, making it difficult to optimise flexibility of withdrawals to meet cashflow demands, or utilise allowances for income and gains. One of the most common problems is duplication of asset allocation – without a single party having oversight, clients will often find themselves doubling up exposure to certain companies, or overlooking a sensible minimum allocation to cash or alternative assets.
If we can identify the purpose behind a particular portion of wealth for example, a portion ringfenced for a client's cashflow needs versus a portion set aside to support legacy, this helps clients take a more structured approach to the right investment strategy, quantum and ownership structure for that portion and its ultimate purpose. Clients feel more in control of their wealth as a result.
In a world of rising inflation, geopolitical wobbles and so forth, how are you working with clients to keep them focused on the medium term, without becoming overly distracted, or missing important tactical shifts? How do you help them achieve the right balance?
It is very easy to get distracted by noise, so the first thing we do is focus on our clients' strategy and not the market. In other words, it all starts with helping clients have that clear structured approach based on medium to long-term strategic goals, aligned with their values and risk tolerance.
While markets fluctuate, clients' objectives shouldn't and having that sensible plan in place means that clients are more prepared for various scenarios that come with investing. When you have a plan you are able to think more clearly, calmly assess and take advantage of any shorter term opportunities that arise.
Are you noticing any different trends in new clients' sources of wealth? Are clients younger, more diverse in terms of gender, backgrounds, etc?
We have definitely seen a move towards the democratisation of wealth with a broader diversity of wealth creators across social backgrounds, age and gender. Most of our existing book is still made up of retirees. However, by increasing our conversations with the successive generations who will inherit that wealth, we expect to see the age of the book decrease.
Playing to our strengths in dealing with wealth creators and entrepreneurs, we have seen this population get younger. We are also noticing a similar trend with private equity and hedge fund professionals who are typically in their 30s to 50s.
How "international" are your clients? Have you had to refresh your KYC checks and make any changes because of sanctions vs Russians, etc?
We take great pride in our AA- credit rating which means doing the right business with the right people. This means that we take a more cautious approach to risk and, as such, are comfortable with our rigorous screening pre and during onboarding.