Investment Strategies
Go For Quality Stocks In Troubled Times – Lombard Odier
Equity markets have fallen and the economic news remains difficult. In such an environment, the Switzerland-based private banking house argues that quality stocks deserve a higher place in the portfolio.
Lombard Odier says it makes sense to tilt portfolios towards holding "quality" stocks and choose value over growth equities in an increasingly tough market environment.
Although some of the shift can be made by beta-products such as exchange-traded funds, the need to unearth value stocks also puts a premium on active management, Stéphane Monier, chief investment officer, Lombard Odier Private Bank, said in a note.
At a time of high inflation, recessionary fears and the Russian invasion of Ukraine, investors have "few places" to hide, Monier said.
And Monier argued – citing MSCI figures – that investment styles (growth, or value etc) had been more important in driving returns than choosing a sector or country.
Growth stocks outperformed value stocks from the end of the global financial crisis and 2021. The spread between performance of value and growth stocks has, however, narrowed in 2022.
Quality shines when economies go dark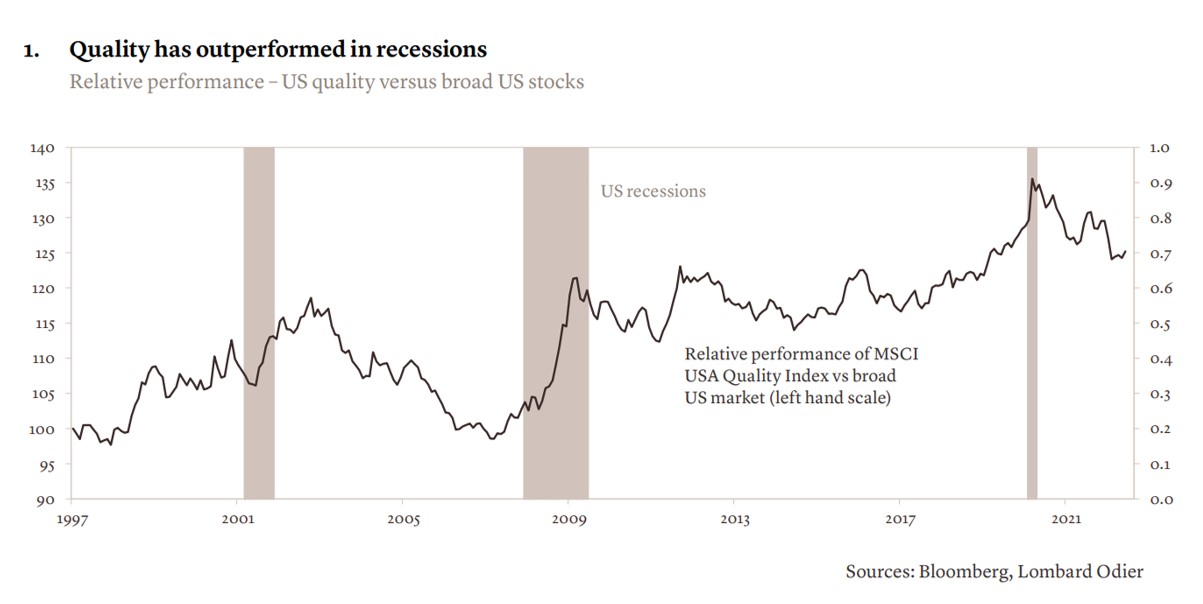 "A tilt towards quality is one way to introduce a defensive element to portfolio positioning and reduce risk. Our current allocation favours value over growth, and we have increasingly applied a quality overlay to stock selection this year," Monier said.
"Why are we doing this now? One reason is price correction. Valuations of quality stocks have fallen back to long-term average multiples and no longer constitute a headwind. The other is timing, and the rising probability of a severe recession," he said.
In Lombard Odier's formulation, a "quality" stock relates to "companies with resilient business models and sustainable competitive advantages."