Client Affairs
Nuveen Targets Switzerland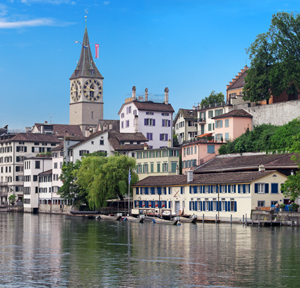 The latest moves and appointments in Europe at global investment manager Nuveen.
US-based Nuveen has opened a new office in Zurich and appointed Christian Leger as managing director and head of Switzerland to bolster its private wealth offering in Europe.
He will lead Nuveen's expansion across the country, in alignment with its objectives to both support and grow its existing institutional client base and grow its offering for private wealth clients, the firm said in a statement this week.
Leger joined Nuveen from Allianz Global Investors where he was country head for Switzerland and head of European banks. He served as managing director, business development at Capital Group before that.
Leger, who brings over 20 years of experience in the asset management industry, is joined by Michele Perone, who has also joined from Allianz Global Investors. She will be dedicated to the growth of Nuveen's private wealth business in Switzerland, the firm stressed.
Nuveen said that it has built and maintained relationships with Swiss clients for several years, and has taken the strategic decision to build a local presence in the heart of the country's financial capital.
The new office also forms part of Nuveen's strategy to bolster its private wealth offering in Europe, having identified the Swiss market as an important region to meet this objective, given the depth, breadth and reach of its investor base, the firm added. It is Nuveen's 17th office in Europe and is located on Fraumünsterstrasse in the heart of Zurich.
Welcoming the move, Romina Smith, head of Central Europe, global client group, said: "The opening of our office in Switzerland is a significant step for Nuveen's European expansion plans, as we focus on bolstering our services to the private wealth and institutional investment industries."
"A local presence is essential to our success here as Switzerland is home to some of the world's largest private banks and global financial institutions and we see the Zürich office as key to further unlocking the wealth market in Europe," she added.
Welcoming Leger she said: "He brings a wealth of experience, having covered Swiss clients throughout the entirety of his career."
"His knowledge of the local market and industry expertise will be invaluable as we look to build and strengthen our client base," she added.
Chicago-based Nuveen, with $1.3 trillion assets under management, offers a range of solutions to Swiss clients across public and private markets including products across the global real estate and alternatives sectors, which have seen heightened investor interest, in recent years.