Offshore
Funds, Flexibility And Strong Foundations – A Walk Around Guernsey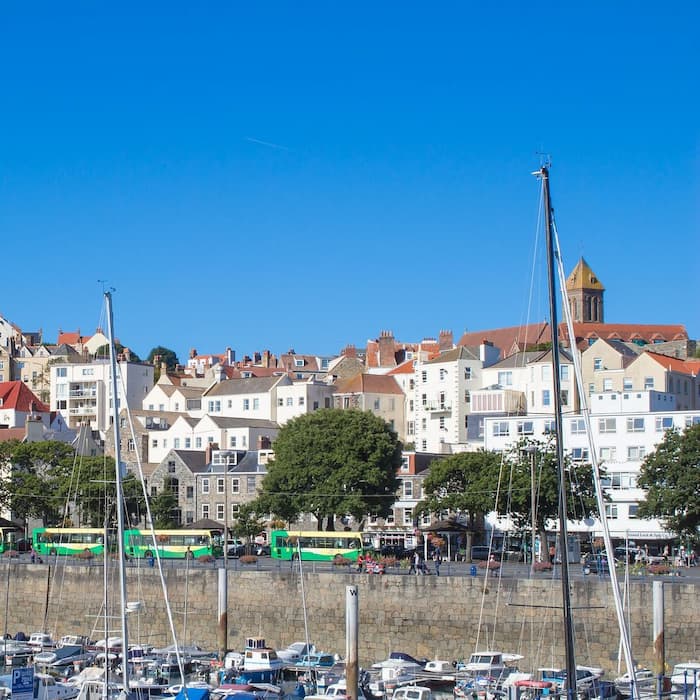 We talk to senior figures at Carey Olsen about the offshore law firm's work in Guernsey, how the pandemic and its aftermath affected the island, and what the future holds.
As this news service continues to explore the challenges and opportunities in the Channel Islands of Guernsey and Jersey, we talked recently to Russell Clark, managing partner and head of the trusts and private wealth group for Carey Olsen in Guernsey, and Matt Brehaut, partner in Carey Olsen's London office and a member of the firm's Guernsey corporate practice. (See here for an overview of our coverage.)
How has the pandemic intensified legal work around the structuring of wealth, estate and tax planning, will writing and so on?
Russell Clark: Most people, not just those with considerable wealth, recognise the need to plan for what will happen to their assets when they are no longer able to manage them and how best to provide for their dependents. Whether this is, at its most simple, the preparation of a will or, at the other end of the spectrum, the establishment of a family constitution, trusts, foundations and private trust companies. However, for few people is this planning a priority. It is frequently a task that falls to the bottom of their to-do-list, overtaken by more exciting projects or at least projects with a less maudlin underlying premise. The gestation period, the time between clients first thinking about succession planning and the implementation of a strategy can be years, sometimes much longer.
That changed during the pandemic, particularly at the start, as news and fear of the infection spread. What was something that could always be postponed to another day suddenly took on more urgency and clients who had been talking to us about planning quickly started putting those plans into action.
Other clients who had not previously thought about structuring their wealth did so and the time between initial instruction and implementation was cut down rapidly. For some clients, who unfortunately contracted the infection, we were taking instructions and implementing them often within hours.
Guernsey had a very strict initial lockdown with the local population effectively confined to their homes other than for short periods of daily exercise. The roads were eerily quiet but we were kept busy visiting local clients for whom the preparation of or updating of their wills or appointing attorneys or alternate directors had suddenly become a priority.
With Guernsey's property market booming, what sort of help are clients looking for in terms of high-value property transactions?
Russell Clark: Guernsey's property market is divided between the Local Market, properties which are available for occupation by qualified local residents or those given a permit to occupy such accommodation on the grounds that their employment is essential to the island, and the Open Market, properties which are available for occupation by anyone with the right of abode in the United Kingdom.
A remarkable effect of the initial lockdown was that both property markets became extremely busy. One reason for the much-increased attention in the Open Market was the perceived success of the way in which Guernsey dealt with the pandemic. The initial lockdown was so successful that Covid was eliminated from the local population enabling the economy to reopen.
Strict controls were maintained on external borders and quarantine for those coming into the island was both imposed and enforced but this allowed shops, offices and hospitality venues to open and thrive when much of the rest of the world was still in lockdown.
Enquiries as to how to relocate to the island were received from all over the world. Valuable Open Market properties were being sold to people determined to relocate to Guernsey who had never in fact visited the properties, relying instead on virtual tours via FaceTime with the agents (and one hopes a good survey). Our property team has been very busy not only conveying high value properties but also helping people who are new to the island in settling in.
Indeed, conveyancing statistics for 2021 as a whole showed that sales activity in the Guernsey Open Market was at its highest ever level. Figures revealed that that there were a total of 127 Open Market transactions in 2021 – 30 more than in 2020, and also exceeding the previous high of 101 in 2006 – the most of any year since Unusualities of Guernsey, an independent compiler of local conveyancing statistics, started recording statistics in 2004.
The rise of private equity funds in Guernsey: how much of this work is being done by Carey Olsen? Where are the clients for these sort of funds coming from? What sort of organisations run these funds and why, in your view, are they seeking help from Carey Olsen in Guernsey?
Matt Brehaut: Private equity funds remain the driving forces behind the success of Guernsey's investment funds industry. Indeed, the most recent edition of Monterey Insight's Guernsey Fund Report found that for the year ending 30 June 2021, the island's funds sector had enjoyed its strongest levels of growth in a decade with fund assets serviced in Guernsey increasing to $532.7 billion – up 24.4 per cent compared with a year previous. Within that, Carey Olsen advises 847 regulated investment funds which is more than five times the number of our nearest competitor, and represents 83 per cent of the entire Guernsey market by assets under management.
There is no 'typical' type or location of clients for these funds. We see investments from high net worth investors, institutional investors, sovereign wealth funds, endowments and pension funds, as well as smaller investors and family members (facilitated by Guernsey's private investment funds regime). Nor is there a typical organisation operating these funds. We work with the full spectrum of firms, from first-time managers launching their initial fund with the help of friends and family, through to multi-billion blue chip firms launching their latest vintage fund.
Clients use Carey Olsen due to the depth and breadth of our funds' expertise. Our extensive market coverage means that we have first-hand experience of all types of funds and can apply that knowledge to serve our clients best. We maintain close links with the top onshore law firms, with whom we regularly work on fund establishments. Many of our lawyers are alumni of "magic circle" and US firms in the City of London and beyond; we know the partners and lawyers in these firms personally (in many cases they are former colleagues) and can recommend the most suitable firms in order to ensure that the best commercial, legal, structuring and regulatory advice can be provided to the client.
There are a lot of structuring "tools" in the box in Guernsey today but are there areas that still need to be developed to serve clients' needs and requests (types of trust, foundation, corporate structures, other)?
Russell Clark: There is a saying that when the only tool in the box is a hammer every problem looks much like a nail and so we must remain vigilant to ensure that we equip our practitioners with the tools they need to service their clients. As a jurisdiction we scan the horizon to see what clients might need and what our competitors are doing. There are some interesting entities being set up in some jurisdictions but Guernsey's partnership, trust, foundation and corporate regimes are all modern and very flexible.
We have not yet come across trusts, foundation or corporate entities that might be available in some jurisdictions for which no equivalent result might be achieved using Guernsey structures. There may be tweaks that might conceivably be made to those existing structures to better market their use as, for example, family investment companies, and the regulatory regime might also be helpfully revised to create a regime for those who might want their family offices to be regulated but I would regard such developments as evolution rather than revolution.
If you could fast-forward by five years, where would you see your firm? And what do you think the trusts/fiduciary services sector will look like?
Russell Clark: Carey Olsen is currently the pre-eminent firm in the Channel Islands, and I have every confidence that we will continue as such. We cannot afford to become complacent with some very strong competition in the islands but the firm was founded in Guernsey in 1898 and has gone from strength to strength by taking the long view and building strong relationships with our clients, the firms we work alongside in other jurisdictions and our local governments.
It is a strategy that has served us very well to date and I see no reason to change our collegiate approach, which I believe will also drive continued growth in our newer offices in the Caribbean, Asia and, most recently, in Bermuda where we have seen our colleagues there make significant strides forward in a relatively short timeframe.
As regards the trust and fiduciary space in five years' time, I still envisage that there will still be those very large multinational trust companies that will be either listed or private equity-backed which will be jurisdictionally agnostic, bank-owned trust companies (and I anticipate by then there may well be some banks trying to re-join the sector), and more, new independent providers. Across the board there are some excellent providers but I expect those that will thrive will be those who have a determined focus on client service, low staff turnover and a discerning eye as to the nature of the work that they are willing to take on.
Besides private trust companies, what other structures and forms of trusts are in strong demand, and why and from whom?
Russell Clark: Non-charitable purpose trusts are ever popular in the fund space. Most private client trusts created now tend to be highly bespoke but, at their core, are discretionary in nature regardless of where the clients hail from. Private Trust Foundations, foundations created to act as trustee are also becoming more popular for continental clients instead of private trust companies as they eliminate the need to think about the ownership of the trustee.
It can be argued that IFCs such as Guernsey have more freedom to innovate, test ideas and challenge established business models. When it comes to innovation in the offshore world, where would you say Guernsey stands out?
Russell Clark: It is true that smaller jurisdictions where the industry is naturally closer to government and where the government wishes to actively support the industry may be more nimble than larger and perhaps slower-to-react jurisdictions. Put simply, there are fewer hurdles to impede good ideas.
Guernsey has always taken pride as a jurisdiction in its willingness to innovate and adapt to client demands. Our first captive insurance company was formed in 1922. We developed the protected cell company in 1997 – an innovation that has been adopted now by many other jurisdictions.
But we are also a careful jurisdiction. We were the first Crown Dependency to look seriously at the introduction of foundations and the last to actually introduce them having seen how other jurisdictions did so, taking into account the feedback from practitioners and academics and then looking to make improvements.
The same is true of our trust legislation. Many other jurisdictions had trust statutes long before we did and we looked at them carefully before producing something that was modern and flexible. We have had to modify our trust legislation less often than many other IFCs have done.