Financial Results
Net Revenues Rise At Deutsche's Private Banking Arm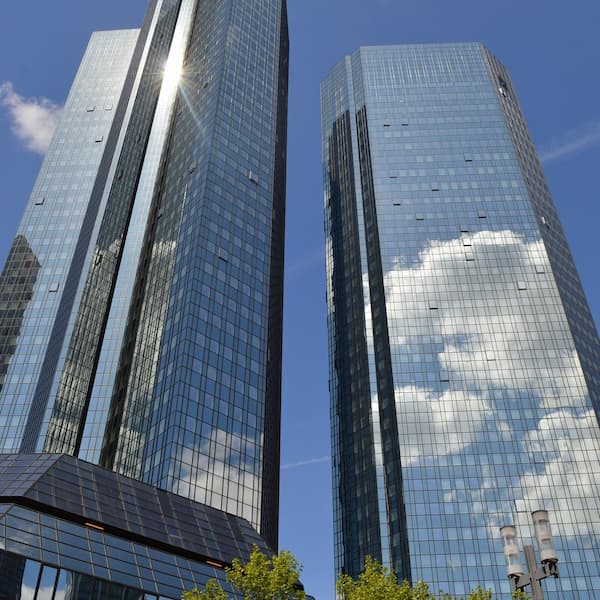 Germany's largest bank reported a broadly positive set of numbers for its private banking business in 2022 and for the final three months of last year.
Deutsche Bank has announced today that private banking net revenues rose 11 per cent in 2022 to €9.2 billion ($9.9 billion) from a year before, rising 6 per cent if adjusted for one-off items.
New business volumes, which were €41 billion in 2022, comprising net inflows into assets under management, including deposits and investment products, were €30 billion, and net new client loans were €11 billion. Net revenues in the Private Bank Germany group stood at €5.3 billion, rising 6 per cent year-on-year, and by 4 per cent if adjusted for the impact of the BGH ruling. (The latter point refers to the German Federal Court of Justice in April 2021 ruling on pricing changes on current accounts and higher revenues from Sal. Oppenheim workout activities.)
Net revenues in the international private bank were €3.8 billion, up 19 per cent year on year, and up 9 per cent if adjusted for the gain on sale in Italy and other specific items which consisted of Sal. Oppenheim workout activities.
In the fourth quarter of 2022, private bank net revenues were €2.5 billion, up 23 per cent on a year earlier.
Asset management net revenues were €2.6 billion, slipping by 4 per cent on a year before. Management fees rose 4 per cent, reflecting higher fees in alternative assets – partly offset by negative market impacts on revenues from certain products.
Growth in management fees and a positive impact from currency movements was more than offset by a significant year-on-year decline in performance fees, partly reflecting the non-recurrence of a large performance fee on a multi-asset fund recorded in the fourth quarter of 2021.
Deutsche logged total assets under management of €821 billion at the end of December 2022, down 11 per cent from 12 months' earlier as markets fell.
Group results
The Frankfurt-listed bank said pre-tax profit was €5.6 billion in 2022, surging by 65 per cent over 2021. It was driven by 7 per cent growth in net revenues with a 5 per cent year-on-year cut in noninterest costs, resulting in a cost/income ratio of 75 per cent, down from 85 per cent in 2021.
Net profit was €5.7 billion in 2022, more than double that of the prior year. This includes a positive year-end deferred tax asset valuation adjustment of €1.4 billion, compared with €274 million in the prior year, which reflected continued strong performance in the bank's US operations.
Deutsche Bank said it had a Common Equity Tier 1 ratio of 13.4 per cent.
"Over the past three and a half years we have successfully transformed Deutsche Bank," Christian Sewing, chief executive, said. "By refocusing our business around core strengths we have become significantly more profitable, better balanced and more cost-efficient. In 2022, we demonstrated this by delivering our best results for fifteen years. Thanks to disciplined execution of our strategy, we have been able to support our clients through highly challenging conditions, proving our resilience with strong risk discipline and sound capital management."
The lender said its Q4 2022 results were boosted by a gain of about €310 million from its sale of Deutsche Bank Financial Advisors in Italy.