Art
Mixing AI-Driven Art And Nature's Beauties In Singapore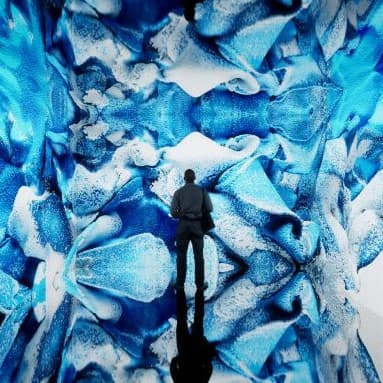 The Swiss private bank has chosen an artist who uses AI-powered tools to convey the beauties of nature while at the same time reminding people of the dangers of human-caused global warming. His works will be on public display in the dramatic setting of Singapore's waterfront.
It's difficult to blend messages about global warming, the power of AI and the beauties of nature on the side of a large building on Singapore's waterfront, but a media artist – backed by Julius Baer – has done it.
The Zurich-listed bank is presenting the debut exhibition of Refik Anadol's Glacier Dreams in the Asian city-state, starting from today through to 25 June. The images, which will be projected onto the façade of the ArtScience Museum, will be co-presented by Julius Baer and Marina Bay Sands.
The programme is part of the bank's NEXT initiative drawing together the worlds of art, science and technology, while at the same time looking at the "megatrends" that help shape investment ideas for the years ahead. Julius Baer is already a sponsor of the arts, such as the Montreaux Jazz Festival in Switzerland – often featuring avant garde artists. The Glacier Dreams images have already featured in the Art Dubai programme in March.
As he explained to journalists at a presentation in Raffles Hotel yesterday, Anadol wants to use AI technology and the hundreds of images he took of glaciers to present visual displays. His efforts also cast AI in a different light from the sometimes-dystopian way it can be shown in the media, which suggests that A1 technology might displace human skills or create other threats.
"We hope to illuminate the danger of glaciers disappearing across the globe but in a way that brings hope, inspiration and joy to humanity," Anadol said.
Julius Baer kicked off its NEXT initiative in December last year, getting support from Serpentine Galliery in London. The Refik Anadol Studio was chosen for the first initiative.
Anadol is also a lecturer in UCLA's Department of Design Media Arts in California. His works have been exhibited in venues such as the Venice Architecture Biennale, Istanbul Design Biennial, Hammer Museum and the Centre Pompidou-Metz. He has also collaborated with orchestras. His first solo North American museum presentation, Refik Anadol: Unsupervised, is on view at the Museum of Modern Art in New York.
Refik Anadol