Trust Estate
INTERVIEW: Estate Planning In The Bahamas With BEE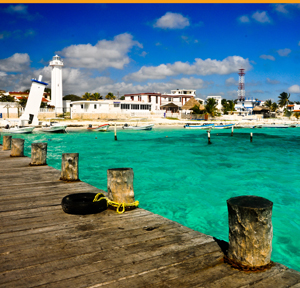 WealthBriefing recently covered the launch of the Bahamas Executive Entity
– or "BEE" – which helped put this jurisdiction in the limelight. We
caught up with Andrew Law, founder and chief executive of the
International Protector Group and Kevin Clerey, managing director, IPG
Switzerland, to talk about the Bahamas.
Could you both tell us a bit about yourselves and background?
Andrew Law: Before founding IPG seven years ago in Nassau I worked
for some twenty-five years in the international fiduciary services
industry. Most of my experience was gained in Guernsey, Switzerland and
the Bahamas while working for Credit Suisse. At the moment, I serve on a
number of government and private sector industry working groups which
were established by the Bahamas Financial Services Board, and I have
previously been chairman of the Association of International Banks and
Trust Companies in The Bahamas. I am British, but love living out here
with my family in the Bahamas.
Kevin Clerey: I met Andrew when we both worked with Credit Suisse –
with my time there stacking up to over 25 years in total. I've lived in
Switzerland for the last thirteen years, and I currently oversee IPG's
development in Europe, helping with the launch of the new Swiss office
earlier this year in Zurich and with supporting IPG's Bahamas Executive
Entity services in the wealth management market.
Why set up IPG? What were the particular circumstances/factors that led you to found it?
Andrew Law: I set up IPG in 2005, with the intention of filling a
vital niche in estate planning by providing professional protector and
related services to trusts and foundations. It was a time of marked
expansion of the trust industry into offshore centres and we could see a
lot of opportunities to address new issues which were beginning to
become clear within the industry.
Kevin Clerey: Exactly. One fundamental issue was where trustees were
based in a remote jurisdiction too far away to be involved closely in
the needs of the beneficiaries. What was needed was a trust protector
who was on hand to oversee the activities of the trust and the trustees
and to ensure that the interests of the settlor and the beneficiaries
were understood and correctly regarded. This was a niche market, but in
many cases a very important one.
How would you describe IPG and its clients? What are its distinctive characteristics?
Andrew Law: In the seven years we've been going so far, the business
has evolved, and by choosing to focus on a niche market we've become
specialists with greater in-depth knowledge. We offer dedicated
international business expertise which is backed up by our strong
experience of working with our private clients and their professional
intermediaries. Our clients come from all over the world.
Kevin Clerey: We've made sure that our approach is very focused and
research-driven, which means that we have a complete understanding right
from inception of each client's individual requirements. This in turn
enables us to offer bespoke, tailored solutions to suit very specific
needs.
In broader terms, how would you describe the general state of
the sector you are in? Which jurisdictions are good for business at the
moment and which are less promising, and why?
Andrew Law: In our experience, the sector is growing very rapidly and
many high net worth individuals still don't know that our kind of
offering is available to them.
We are seeing a lot of business coming from Latin America, where we
have a growing number of clients from Brazil and Colombia, two markets
which are growing extremely rapidly. The challenge is now to capitalise
on that growth and we are able to differentiate ourselves in the market
by providing a very exciting alternative in the world of wealth
management.
When did you decide that a firm like IPG was necessary?
Andrew Law: About seven years ago when the number of international
trust companies were growing rapidly and the increasing complexity in
the field brought about a growing need for our specialist service.
Who works with you?
Kevin Clerey: Our team is made up of a group of highly experienced
professionals who are well versed in international trust business and
estate planning generally. We cover very diverse disciplines which span
fiduciary services and wealth management, law, accounting and marketing –
this means that our clients get expert assistance on the whole process,
not just from a technical or financial point of view, but with input on
all aspects of the process.
The BEE - can you outline what it is and why it is important?
Andrew Law: The Bahamas Executive Entities Act is a unique and
ground-breaking piece of legislation which has been designed
specifically to resolve complex governance issues in fiduciary and
wealth management structures. It is essentially designed to encapsulate
the powers currently in existing wealth management and estate planning
structures within a new form of legal entity.
Kevin Clerey: Once incorporated as a legal entity, this means that it
can exercise as a power holder on decisions in its name. It has
similarities in its standalone nature to a foundation, but it is
equipped with more functions, including the ability to act as a
protector, settlor, founder or investment advisor of any trust or
foundation. It can also act as shareholder of a private trust company,
so it's very versatile and comprehensive.
Who do you think will use BEE? Why?
Andrew Law: One group of people who can use the BEE effectively are
those involved in trusts where there is a greater likelihood of family
disputes or litigation. The BEE can hold the role, responsibility and
powers over certain functions through a legal entity rather than by
individuals. Family members can often become reluctant to take on a role
of acting as trustee and protector within a trust structure, and the
BEE is able to alleviate these concerns by removing unnecessary layers
of ownership and administration within these structures for the benefit
of all concerned. It also facilitates the application of best practice
and family and corporate governance principles in order to protect
against both internal and external conflicts, which is of course vitally
important!
When do you see a significant number of people using the BEE?
AL: The BEE is incredibly new, and while it's still too early to
judge what its most popular uses will be, it has already attracted
interest from wealthy families and their advisors who are looking to
strengthen, and at the same time simplify, their wealth management
structures. People want solutions that simplify, and the BEE does just
that.
Kevin Clerey: These are important decisions with, in many cases, very
long-term implications. BEEs are already receiving a great deal of
consideration from professional advisers and their clients and we are
confident that there will be a steady build up. Some roles that have
already become apparent are those of owning a private trust company,
acting as director of a company, and acting as an investment advisor.
Other options include being the owner or proposer of a single premium
life insurance policy.
How do you explain the BEE to clients?
Andrew Law: When talking with clients, we try to explain the history
of the BEE and why it was created. The Act is the first of its kind and I
think it's essential to stress that it was created in response to a
need to enable high net worth individuals to establish greater control
over the administration and security of their wealth.
Kevin Clerey: One of the key things to remember also is that it
allows the client to appoint himself or other individuals, on whom he
can depend, to be officers or council members, in order to safeguard his
interests. This element of choice is really important.
What other Bahamas-based structures would you mention that deserve particular attention, besides the BEE, and why?
SMART Funds: These are designed to provide the private wealth
management industry with a flexible fund concept that allows
practitioners to design innovative structures akin to special purpose
vehicles.
Private Trust Companies: Many wealthy families today hold a highly
diversified range of assets and interests, both in terms of their
location and composition. As such, it can be a challenge to find a
company willing to act as trustee and to ensure their proper management,
both for the present and for the long-term. One viable solution is the
Family Private Trust Company.
PTCs are compatible with the family office concept and they often
evolve into a family office. They can be a good vehicle for introducing
the next generation to the diverse range of the family's interests and
investments.
Foundations: The Bahamas pioneered the use of foundations, being the
first common law jurisdiction to introduce them specifically for the
cross-border asset holding business. Bahamian foundations benefit from
the country's rigorous asset protection and inheritance laws. They
provide a variety of uses which include among other things, estate
planning and tax planning. Bahamian foundations can be transferred to
other service providers and even to other jurisdictions.
Of all the jurisdictions you have worked in, which one do you like the most?
Andrew Law: For me, that question's easy! The Bahamas! Apart from the
stunning country which it is, it offers several huge advantages when it
comes to wealth management and the industry which we work in. As
evidenced by the enactment of the BEE legislation, it has progressive
legislation, a very stable political and economic environment in which
that legislation can thrive, as well as a variety of wealth and asset
management options.
Kevin Clerey: The Bahamas is also a great location at the crossroads
of the Americas, but I have already voted with my feet for Switzerland!